JMU in the Community
Big Event 2014 yields big totals and big impact
---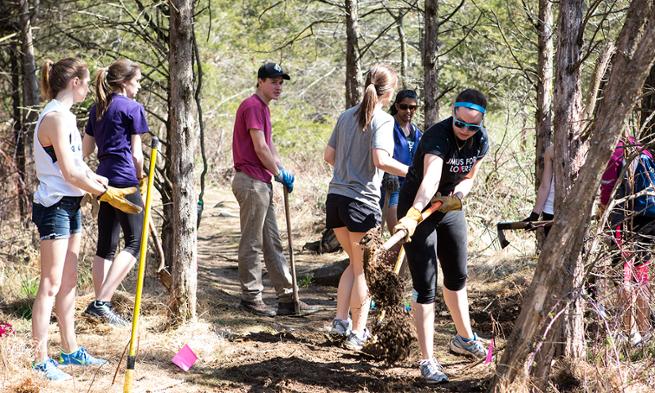 At home
On Saturday, April 12, 2014, James Madison University students, faculty and alumni participated in JMU's fourth annual "Big Event" day of community service. Projects ranged from local parks and churches, to a nearby plane pull, to the event's first private residence project. Here are some quick facts and figures about the event's success for 2014:
Total Number of Local Jobs: 747
Total Number Student Teams Participants: 72
Total Number Student Participants: approx. 750
And abroad
This year's event also traveled overseas to several of JMU's abroad programs. Undergraduates and graduate students participated in local projects to beautify the area they temporarily call home.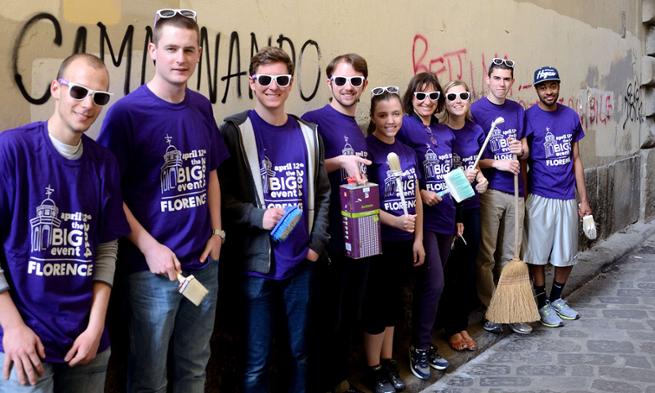 Students in JMU's Florence-based M.A. program in political science with a concentration in EUPS, European Union Policy Studies, took part in The Big Event, JMU's global day of public service. EUPS students teamed up with the Associazione via Maggio (The Via Maggio Association), a community organization that brings together residents and merchants and seeks to keep the community safe, clean, and vibrant. Via Maggio is an important historical street in the heart of Florence's Santo Spirito district, where JMU's Florence facility is located. On Saturday, EUPS students and the Associazione Via Maggio cooperated to remove graffiti from the walls on and around the street.
For their inaugural Big Event in Antwerp, JMU College of Business students collaborated with students from the University of Antwerp for a week to develop sustainable business proposals for various companies. A total of 33 JMU students were involved in 14 teams along with students from University of Antwerp, where each team worked on a proposal for a different company. For instance, one team developed a recycling plan for Starbucks, whereas another worked on a sustainable ride share project for Toyota. At the end of the week, the teams were able to present their proposals to the company representatives as well as the JMU College of Business Dean, Dr. Mary Gowan, who was visiting Antwerp to learn more about JMU's Semester in Antwerp program.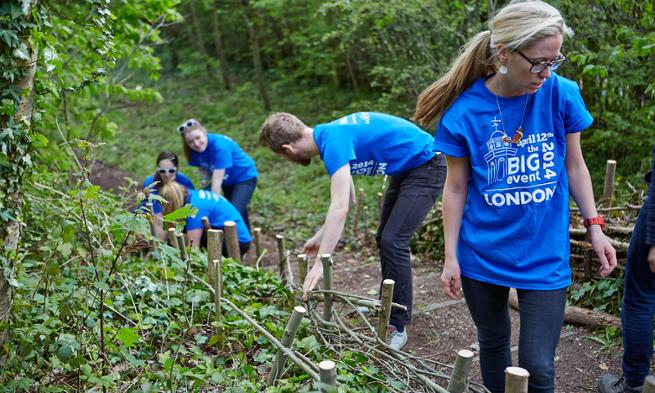 On Friday, April 11, the inaugural London Big Event was held in conjunction with a "clean up" organization—the Conservation Volunteers—to spruce up a London "green space" in Camden. JMU students and alums, along with faculty and staff, worked together to build pathways and fences, clear debris and trash, and weed paths throughout the garden. The 19 volunteers enjoyed their time together and afterwards had a celebratory party at a local pub, The Black Lion.
Salamanca's inaugural Big Event took place on April 23. Working with the city of Salamanca, the Association of Parkinson's Disease, and the Ministry of Environment, JMU students served as the support team for city's annual fundraising event, "Race for Parkinson's." JMU students assisted with the coordination and organization of the race, including marking of the race path, registration, and logistics support during the race. A number of the students actually ran the race, serving the cause in that additional way. Alumni also participated in this year's event, forming teams in 20 locations around the country. JMU's London alumni chapter also participated, with three Dukes cleaning up Camden Nature Reserve.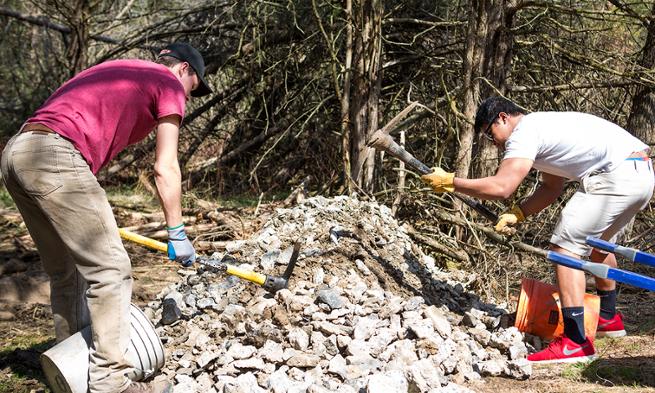 The Recap
Total Participants: 256
Total Number of Teams: 20
Locations:

Arlington, Va.
Atlanta, Ga.
Austin, Texas
Baltimore, Md.
Boston, Mass.
Charlotte, N.C.
Charlottesville, Va.
Chicago, Ill.
Dallas, Texas
Hampton Roads, Va.
Harrisonburg, Va.
Houston, Texas
Jacksonville, Fl.
London, England
Los Angeles, Calif.
New York, N.Y.
Philadelphia, Pa.
Richmond, Va.
San Diego, Calif.
Tampa, Fl.
Service to others is the JMU way. Learn more about the Madison Experience.