News
JMU speaker to explore 'What questions should we ask?'
---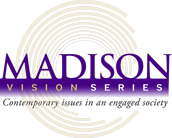 The author of "Socrates Cafe," a book that has spurred the creation of more than 500 ongoing discussion groups around the world, will speak at James Madison University April 30.
Christopher Phillips, a foremost specialist in the Socratic Method, will present at 3:30 p.m. in Grafton-Stovall Theatre as part of The Madison Vision Series: Contemporary Issues in an Engaged Society.
Phillips reminds us that we ought to ask questions – "not about any chance question," as Socrates put it in Plato's Republic, "but about the way one should live." Phillips is the recipient of the Distinguished American Leadership Award and, most recently a senior education fellow at the National Constitution Center.
Phillips has inaugurated Socrates Cafe, Constitution Cafe and Spirit of '76 Cafe dialogue projects. These groups are not just about good conversation. "It's grass-roots democracy," as Phillips told Time magazine. "It's only in a group setting that people can hash out their ideas about how we should act not just as an individual but as a society."
Phillips will serve as the sixth and final speaker in the Madison Vision Series inaugural year. Previous speakers have been Dr. A.E. Dick Howard, the White Burkett Miller Professor of Law and Public Affairs at the University of Virginia; Dr. Carol Geary Schneider, president of the Association of American Colleges and Universities; Cynthia Cooper, WorldCom whistleblower and internationally recognized expert on ethics and leadership; Kat Imhoff, president of James Madison's Montpelier; and Carly Fiorina, chair of Good360, the world's largest product philanthropy and former president and CEO of Hewlett-Packard Co.
The Madison Vision Series was established to honor James Madison and his conviction that cultivating an informed and engaged citizenry is essential to the health of our republican democracy. The series brings scholars, thinkers and leaders to campus for lively explorations of issues facing our contemporary society.
The Office of the President, in conjunction with the Madison Institutes of JMU's department of Outreach and Engagement, sponsors the Madison Vision Series.
Admission to Phillips' presentation is free and open to the public.
# # #
April 29, 2014