News
4-VA partners speaking same language
---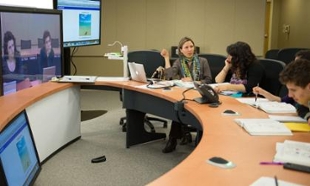 JMU instructor Lilian Feitosa (center) talks with students during her beginning Portuguese class, which is offered to students at Virginia Tech (on screen, left) as part of the 4-VA initiaitve.
One by one, the JMU students in Lilian Feitosa's beginning Portuguese class settle into their seats, switch on their microphones and glance at the giant projection screens at the front of the room that show the same scenario playing out 140 miles away at Virginia Tech.
As class begins, the students take turns reading from a textbook while images of the Portuguese capital of Lisbon appear on the auxiliary monitors. The immersive videoconferencing system, powered by Cisco, ensures that whoever is speaking instantly appears on screen, and the high-definition, real-time quality of the audio and video creates the feeling that the two groups are together in the same room.
Feitosa, a native Brazilian who is in her fourth semester of teaching Portuguese at JMU via TelePresence, connects her laptop and streams a YouTube clip of a Portuguese music video while her students follow along with a copy of the lyrics. "I like to use a lot of visuals and music, and the quality of the technology is really good," she says.
Course sharing is a key component of 4-VA, a partnership among JMU, George Mason University, the University of Virginia and Virginia Tech to increase collaborative learning and research. Since the spring of 2012, more than 125 students have participated in shared courses with JMU.
Interest in JMU's upper-level foreign language classes, particularly Portuguese, Arabic and Italian, is strong.
"We've noticed that some of the member schools, particularly Virginia Tech, wanted to extend some languages," said Dr. Giuliana Fazzion, head of foreign languages, literatures and cultures at JMU and professor of Italian. "They may have a request from three or four of their students to continue, but for them it isn't feasible to offer the course with that number so they partner with us."
JMU students benefit from the partnership as well. Prior to 4-VA, for example, an advanced business Chinese course was only available to those JMU students who paid for a semester abroad. And when a professor of Korean at Madison retired, the university turned to 4-VA partner George Mason to provide instruction rather than canceling classes until a new instructor was hired.
Foreign language courses are well suited to TelePresence because they require student-teacher interaction. The conference rooms at each member institution are identical and so is the equipment, including three 65-inch projection screens, auxiliary monitors and a smart printer with which to share documents and administer quizzes and tests. Faculty use Blackboard to post lectures and assignments and to communicate with students.
Since Arabic has its own alphabet and numeric characters, JMU instructor Israa Alhassani uses a document camera to conduct grammar exercises in her classes, which are also shared with Virginia Tech. As she writes, the words appear simultaneously on a monitor in Blacksburg. Alhassani says TelePresence will allow for more Virginia students to continue studying Arabic.
"This is my first experience with TelePresence and the technology is great," says JMU sophomore Daniel Wagner of Richmond, Va., who is interested in Brazil as an emerging world power and wanted to add Portuguese to his resumé after achieving near fluency in Spanish. "I can't speak for the Virginia Tech students, but I think it's great that we can include them so more students can study Portuguese or other classes we offer that they might not have the faculty for."
In addition to foreign languages, JMU currently shares biology courses and an intelligence analysis course through 4-VA, and plans are under way to extend Madison's course offerings to include physics, engineering, digital photography and international crisis simulations.
###
Jim Heffernan ('96), JMU Public Affairs
April 25, 2014
Published: Friday, April 25, 2014
Last Updated: Thursday, October 20, 2016