News
JMU students accepted into intensive summer medical training program
---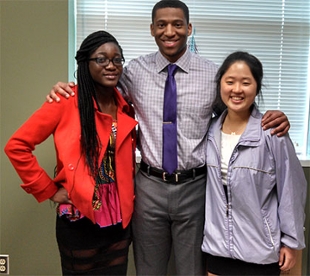 Phillipa Owusu-Antwui (left), Donald Jones and Youjung "Esther" Kim
A trio of James Madison University students will be spending some of their summer at Yale and the University of Virginia honing their skills for future medical careers.
Donald Jones, Youjung "Esther" Kim and Phillipa Owusu-Antwui have been accepted into the competitive Summer Medical Dental Education Program. Jones, a sophomore health sciences major who aspires to be a pediatrician, will attend the program at Yale University; while Kim, a freshman biology major who plans to become a surgeon, and Owusu-Antwui, a sophomore health sciences major pursing a career as a neurologist, will attend the program at the University of Virginia.
The intensive SMDEP programs run for six weeks. Students take chemistry (general or organic), biology (introductory or advanced), physics, English, public health and a variety of seminar courses. The program also offers career development, learning skills seminars, limited clinical exposure and a financial planning workshop. They are taught by Yale and U.Va. professors and the teaching and resident assistants are medical students at those institutions. Transportation, housing, food and a stipend are provided to the participants.
The SMDEP programs began in 1988 to increase the number of highly qualified medical school applicants from minority groups underrepresented in medicine. The program, which has broadened in scope over the years and now includes dentistry, targets students representing a wide range of economic, cultural, racial and ethnic diversity.
# # #
Published April 11, 2014