News
JMU senior named Virginia Nursing Student of the Year
---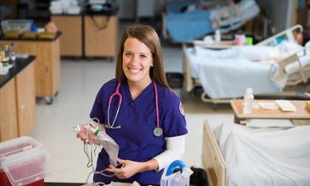 Suzanne Beeckler of Chesterfield, Va., plans to work in neonatal intensive care after graduation in December.
Suzanne Beeckler grew up helping her friend face a chronic, life-threatening disease.
"My best friend since second grade has cystic fibrosis," Beeckler said. "I was with her through all of her hospitalizations. In high school, she went through a three-week drug-induced coma, and eventually, my freshman year of college, she got a double lung transplant."
Now a nursing major at JMU, Beeckler strives to be a positive, encouraging force for her patients, just like her friend's nurses were for her. "When I would visit her in the hospital, it was the nurses who were with the patients the most," Beeckler said.
This passion is one of the attributes that led to Beeckler being named the Virginia Nursing Student Association's Nursing Student of the Year. Beeckler, the president of JMU's NSA chapter, is the fourth JMU student in a row to receive the award.
Dr. Sandra Annan, assistant professor of nursing and the recipient of VNSA's Most Supportive Faculty Member award, believes that the students' dedication to community outreach plays a part in the selection process. The JMU chapter has received the association's Most Active Constituency Award the past five years. 
"We have a really good reputation in the community as a whole," Annan said. "I know a lot of hospitals say things like, 'We prefer JMU students.'"
According to Beeckler, the nurses JMU students work with are always impressed with how much the students care and the lengths they will go to in order to help a patient. 
"We really take community service seriously. It's not just academics," Beeckler said. "Most JMU students, in general, are really well-rounded, and we really try to go out in the community and find opportunities to help."
JMU nursing students usually spend two days a week in class and three days in the community working at hospitals.
"You'll learn something in class one day and then a few weeks later you'll see a patient with that same condition, so you're really learning skills and knowledge that you're going to be able to apply to real-life patients," Beeckler said.
The experience that students gain during clinical hours is also helping prepare them for life after graduation. Beeckler, who hopes to become a delivery and labor nurse, has already assisted with three live births.
After graduating in December, she plans to work in neonatal intensive care before continuing her education to become a nurse practitioner.
###
Jennifer Eyring ('14)
March 14, 2014
Published: Friday, March 14, 2014
Last Updated: Thursday, October 20, 2016