Media Arts and Design
A very special Homecoming
---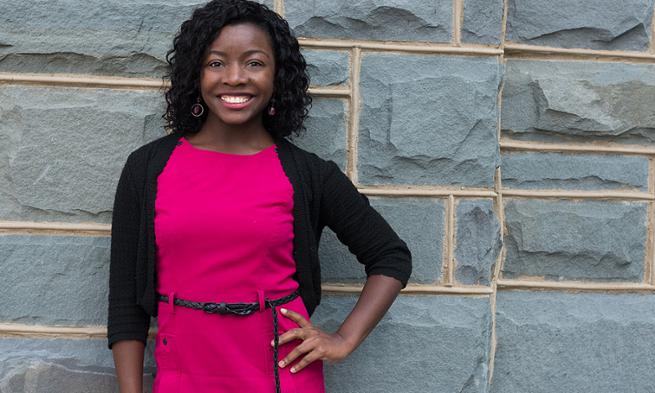 By Hannah E. Collins ('15)
When Chiquita King ('09, '11M) returns to campus for Homecoming this weekend, it will be for a very special reason.
"I am so happy that I'm able to give back—to come back and speak—because the Centennial Scholars program means so much to me," says the JMU Centennial Scholar alumna who will be participating in the program's 10th anniversary celebration.
"The program helped me grow as a person."
Achievement and the Madison Experience
Centennial Scholars provides JMU scholarships and support for under-represented students who don't have the financial means to attend college. Students involve themselves in 100 hours of community service each year and maintain a GPA of 3.0 or higher. They also participate in small and large group meetings and mentorship arrangements with JMU graduate assistants and faculty members. It's all designed to keep students achieving and feeling positive about their Madison Experience.
Today King credits much of her success to the program. As an instructional systems designer for Booz Allen Hamilton, she oversees, creates and maintains training materials and learning solutions for defense clients. Her star continues to rise at the company, where she recently received her second promotion in her three years. King also involves herself in her Northern Virginia community. She has attended events with the Metro Dukes Alumni Chapter in the D.C. area, and serves as a chapter officer with Alpha Kappa Alpha Sorority. King also participates in numerous community service projects and programs in her area.
A full immersion experience
King credits her time at JMU for having learned the value of community engagement from her experience at JMU. Going to JMU, however, was not always a sure thing for King. She came to JMU from Southampton County, and felt grateful to have received $1,000 scholarship to Virginia Tech—until the day her guidance counselor pulled her out of class. "He told me that the $1,000 Virginia Tech scholarship that I received may have to be passed on to the next person," she said. "I was puzzled. Then he told me that I received a full scholarship from JMU through the Centennial Scholars Program."
Chiquita immediately involved herself on JMU's campus. She majored in Media Arts and Design, and received her masters in Adult Education and Human Resource Development. King took advantage of every opportunity she had to be involved, and she credits her ability to participate in university programs to the Centennial Scholars Program. "Getting the scholarship helped me mentally, because everything was paid for. I had opportunities to fully immerse myself in my college experience. I was able to become active in a lot of campus organizations like Student Government, Orientation, and the Alpha Kappa Alpha sorority," said King. "I was able to focus on my academic studies, enjoy college life, and really be a student."
"It is a true blessing and I am forever grateful for it," said King of having the opportunity to be a Centennial Scholar. "It's not just a financial thing. The program helped me grow as a person."