News
Could undergraduate's research be paving the way to cures?
---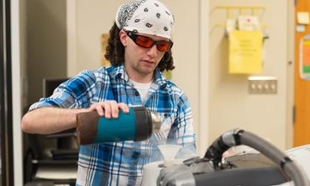 Having seen the horrors of diseases such as Alzheimer's and cystic fibrosis in people close to him, Josh Temple came to JMU knowing he wanted to do research that could lead to cures.
Heading down the homestretch of his junior year, the honors biophysical chemistry major is on the right path, learning the research skills and laboratory techniques that are needed to combat such scourges. And while the research he is doing on the RecA protein won't directly lead to cures, the work has an overarching reach to everybody in the RecA field, said Temple, a Second Century Scholarship recipient who also is minoring in math.
The RecA protein is used in a number of research areas, including understanding antibiotic resistance gene transfer in an effort to improve the efficacy of modern antibiotics; understanding certain neurodegenerative diseases such as Alzheimer's, Parkinson's, and Huntington's; and understanding model protein systems. It is also being adapted for use in things such as paternity testing and biological circuitry.
Using techniques such as difference Fourier transform infrared spectroscopy, Temple has made some potentially startling observations about some basic research procedures involving RecA. When researchers study RecA, they do so in buffers that keep the protein stable and in its native state. Theoretically, the choice of buffer should not be an issue. However, Temple and others working in the lab of Dr. Gina MacDonald in the department of chemistry and biochemistry have noticed some concerning differences in protein stability using four different buffers. "The changes that we see in these buffers using this technique are so incredibly small. But such miniscule changes in the protein can have large ramifications for the system," Temple said.
Such an issue might require researchers to double-check their past work. "From our results we can conclude that data can be drastically altered by simple components of one's experimental design," he said. "Of course, we explore deeper biophysical explanations to reconcile these phenomena, but the overall message is clear—a painstaking attention to detail is crucial in the work of any researcher."
The promise of getting laboratory experience as an undergraduate is what led Temple to JMU and he hasn't been disappointed. "I probably wouldn't be heading my own project" at a larger research university, he said. Temple started getting research experience as a freshman and he has been working on his current project since the end of his sophomore year. A paper on research he did as a sophomore has already been published.
"What piqued my interest in JMU is the focus on undergraduates. When I toured the campus and the chemistry department, I just fell in love with the vibe, the atmosphere," he said. "Our faculty is just so personable. It's not the largest department so you get to know your professors."
Temple is already looking forward to graduate school and has no doubts he is being well prepared.
Published Feb. 25, 2014