News
Compassionate leadership transcends languages
---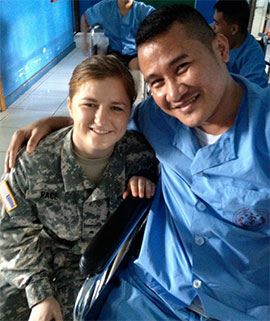 Cadet Erin Pace with one of the friends she made at the Philippines Military Medical Center. (Photo courtesy of Pace)
Far apart from her Duke Battalion at James Madison University during a deployment to the Philippines in the summer of 2013, ROTC Cadet Erin Pace experienced camaraderie – and found an opportunity for leadership.
As part of the U.S. Army Cadet Command's competitive Cultural Understanding and Language Proficiency program, Pace spent three weeks in the Philippines studying Tagalog, one of two official languages (the other is English) of the island republic and trained alongside Filipino Armed Forces soldiers in an emergency responder course taught by Guam National Guard experts. She and 20 other ROTC cadets from units throughout the U.S. practiced their language skills in schools, an orphanage and at the Hero's Ward of the Armed Forces of the Philippines Military Medical Center.
Pace, a sophomore majoring in health sciences who describes herself as "an Army brat," recalls her initial shock upon entering the medical center. About 50 Filipino soldiers, many recovering from injuries sustained during fighting against terrorist cells in the southern Philippines, sat and stood in the hallway of the ward. "I was dismayed because I thought the center lacked space and resources for the soldiers," Pace said.
Upon checking with a nurse, however, Pace learned that the soldiers had quality medical care and beds. What they lacked was company. Many of the soldiers' families live in outlying provinces far from the medical center and are unable to visit their loved ones during their medical treatments and convalescence.
So for the part of the week they were assigned to the medical center, the cadets visited with their Filipino counterparts, conversing in English and Tagalog. "Hearing the Filipino soldiers' stories about their injuries had a great impact on us and showed us that even though we are halfway around the world, we are all fighting for the same purpose," Pace wrote in a paper she and cadet Lauren Graham of Grand Canyon University prepared as part of their post-deployment processing.
As their time together was dwindling, Pace and the other cadets took it upon themselves to do something for the soldiers. "Being in the James Madison ROTC program, I have learned valuable lessons that have shaped my leadership abilities," Pace said. "Of these lessons, the most important are the seven Army values – loyalty, duty, respect, selfless service, honor, integrity and personal courage."
Pace and her fellow cadets pooled their resources to purchase snacks (including sardines, a local favorite), toiletries, game books and other small treats to assembly 60 gift bags for the soldiers already at the medical center and for the next few to come. They also bought board games for group use. "I was amazed to see how much the patients' morale went up when we entered the floor that day," Pace said. "It was a humbling experience that I will never forget."
"I always knew I wanted to do something in the health field. After going to the Philippines and helping in the hospital, I confirmed my desire to help people medically," Pace said. "I know that the Armed Forces of the Philippines Heroes Ward made a difference in my life."
# # #
Feb. 14, 2014