News
'Thriving' JMU Physics program earns national recognition
---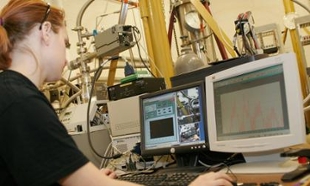 When Dr. Steve Whisnant became head of the physics and astronomy department in 2001, there were about 60 students majoring in the program. These days, the department has about 130 majors, making it one of the largest undergraduate physics programs in the country.
That growth along with the high-quality undergraduate research experience it offers and some teaching innovations have netted the department an Improving Undergraduate Physics Education Award from the American Physical Society's Committee on Education.
"It's certainly a good thing for us nationally," Whisnant said. The department has been recognized in the past with invitations to attend conferences and present papers, but the APS award is the first of its kind.
Provost Jerry Benson said, "This level of recognition represents a lot of hard work, collaboration, a true focus on the teaching-learning process, and dedication by the faculty."
In notifying the department of the award, the APS stated that JMU "sustains a thriving physics department" that has developed a culture of engaging students in the education process. "Especially notable are the range of program offerings to serve a broad student population, including tracks in applied physics and technical communication, in addition to strong teacher education efforts as a PhysTEC site."
The department received a $300,000 grant this year from the Physics Teacher Education Coalition to produce more highly qualified physics teachers for Virginia schools. In the past eight years, the department has produced just one graduate who went on to teach high school physics. The three-year grant is funding a teacher in residence position, filled by someone who has taught high school physics and can mentor undergraduates interested in teaching, as well as stipends for students who work as learning assistants. Learning assistants get a taste of teaching while helping their peers.
"We want to be part of the solution, to make sure that at some point all the schools in Virginia have well-qualified physics teachers so the students have a chance to take good courses," Whisnant said. "Maybe then, a few more of them will become interested in physics." That formula has worked well for Illinois State University, a school Whisnant said is comparable to JMU and has a strong physics teacher education program.
Whether physics graduates pursue teaching, other professions or graduate school, their prospects are good, Whisnant said.  "People are always looking for folks who have a strong technical background. The sort of math and science skills that you obtain in getting a physics degree translates well into lots of things. When prospective students and their parents come to visit, what I tell them is that we teach some physics, but what we really teach is critical thinking. We teach people how to attack a problem they've never seen before."
Related Links: