News
JMU Debate Team poised for another strong finish
---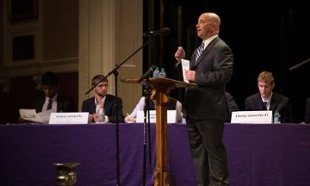 JMU Director of Debate Dr. Michael Davis speaks prior to the championship round of the Madison Cup at JMU in 2013. This year's squad is currently ranked eighth in the country.
For the fourth year in a row, the JMU Debate Team is ranked in the top 10 in the nation.
The team is currently eighth in both the National Debate Tournament and Cross Examination Debate Association rankings.
The rankings are based on team members' performances in regional and national tournaments during the academic year. The JMU Debate Team competes with teams from Harvard University, Northwestern University, George Mason University, Liberty University, the University of Kansas and other traditional powerhouses. The past two years the team has been ranked as high as fifth in the country.
Dr. Michael Davis, JMU director of debate, said the current rankings are slightly lower than usual because the team had to miss a tournament in the fall to attend memorial services for a former Madison debater.
However, with five tournaments still ahead of them, Davis is confident that the team will continue to move up during the second half of the season.
This year's team is unique because of its proportionally high number of underclassmen. There are 19 freshmen and sophomores, two juniors and only one senior. "We knew we were rebuilding this year, so our goal was to stay in the top 10," Davis said.
He believes that first-year debaters at JMU are better prepared than most because of a weeklong retreat before the fall semester starts. "We take them to a cabin in West Virginia and drill debate into their heads," Davis said.
This retreat also allows the team members to bond, which Davis says is an essential component to their success. "Making everybody responsible for everyone really helps," he said.
Because debate teams are typically broken up into teams of two, there can be a lot of inter-squad competitiveness. But at JMU, the team focuses on the whole group instead of individual debaters. "As long as one team is still debating [at a tournament], everybody is working and everybody is helping," Davis said.
Since the start of the retreat, the team has never ranked below 15th.
###
By Jennifer Eyring ('14)
Jan. 31, 2014