News
JMU is a 'best value' university
---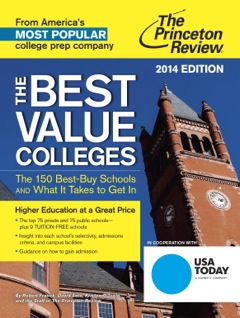 James Madison University is again one of the top 75 public undergraduate colleges and universities identified by The Princeton Review for its annual "best value" guide.
The 2014 edition of "The Best Value Colleges: The 150 Best-Buy Schools and What It Takes to Get In" lists JMU among top colleges and universities based on excellent academics, financial aid and cost of attendance.
The annual guidebook features profiles of the schools with detailed information about their respective analysis factors. Of the 75 schools in each group, the top 10 colleges are identified in rank order, and the remaining 65 are listed in alphabetical order and unranked.
To choose the schools for inclusion in its book, The Princeton Review drew from surveys conducted in 2012-13 of 2,000 undergraduate institutions concerning their academics, cost and financial aid awards and from student survey data collected over the past three academic years.
JMU was listed in The Princeton Review's "Best Value Colleges" books in 2009, 2010, 2011, 2012 and 2013.
The full listing of public and private colleges and universities is available at http://www.princetonreview.com/bestvaluecolleges. The Princeton Review released its annual list and its companion book on Jan. 28.
# # #
Jan. 28, 2014