News
Latino initiative pairs Centennial Scholars, high-school students
---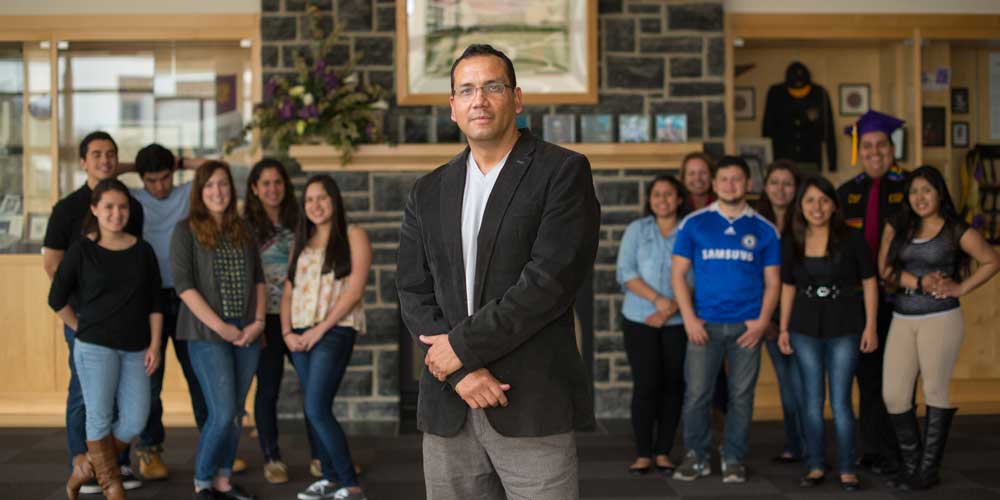 In high school, Andrea Gonzalez attended a conference for area Latino youth interested in higher education. It was there that she was introduced to James Madison University's Centennial Scholars Program.
"One of my goals in going to college was that I did not want my parents to have to pay for it," said Gonzalez, who grew up in San Diego, Calif., as the second oldest of five siblings. "Centennial Scholars gave me a chance to take that weight off my parents' shoulders."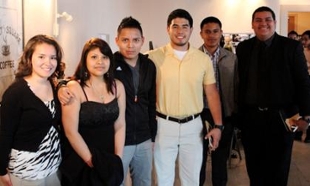 Nevertheless, as the first person in her family to pursue a four-year college degree, Gonzalez was unsure of college admission requirements. "I feel like if I would've had a mentor when I was in high school, that would have helped a lot," she said, "especially with filling out the application and writing a personal statement."
Likewise, JMU Centennial Scholar Luis Parada, a native of El Salvador, wishes he had a mentor in high school to answer questions and help navigate the application process. "We came to the United States because my parents wanted to give us the opportunity to get a better education and to learn English. But when it came time for college, I struggled with it. So I know the problems that Latinos face."
Both Gonzalez, now a junior at JMU majoring in health sciences, and Parada, a senior who plans to become a high-school math teacher, serve as the mentors they never had through Shenandoah Valley Scholars Latino Initiative. The initiative partners sophomore Centennial Scholars at JMU with selected Latino sophomores from Harrisonburg High School for a three-year mentoring relationship.
The goal, according to Dr. Carlos Alemán, associate professor of communication studies at JMU and coordinator of the mentoring and academic program, is to empower and encourage promising Latino students who might not otherwise have college in mind for their future. Alemán became involved with SV-SLI through his role as a JMU professor in residence at Harrisonburg City Public Schools.
"Many Latino youth don't pursue college for fear that it will disrupt their families," Alemán said. "With the parents, we really have to emphasize the idea of a college education as an opportunity for their sons and daughters to develop and succeed, and not as a threat to their family or family identity."
Alemán added that another goal of SV-SLI is to create opportunities for colleges and universities to meet the high school students. "These are outstanding students who might otherwise not even be on the radar screen of admission and recruitment officers."
Scholars Latino Initiative began at the University of North Carolina at Chapel Hill in 2003 as an organization dedicated to educational excellence and equal access for all students. The Shenandoah Valley chapter of SLI launched in the spring of 2012 as a partnership between HHS and Eastern Mennonite University. It has since expanded to John Handley High School in Winchester, Va., and formed partnerships with Shenandoah University and Bridgewater College. JMU student mentors have been involved since September 2012.
Currently there are 15 HHS students in SV-SLI. The students apply for membership in the program at the end of their freshman year by filling out an application, writing an essay and securing letters of recommendation, and then are interviewed by a selection and nomination committee. All Latino students accepted into the program receive a personal approach to academic success, including opportunities for tutoring, visits to area colleges and universities, leadership development and local community service. Those select students who are named as "scholars" are paired with Centennial Scholars at JMU.
SV-SLI scholars have additional responsibilities within the program and are given opportunities to further develop their skills and explore their career interests.
"As a mentor, I help plan events that promote academic awareness or skills that will be useful to students in the future," Parada said. "So, for example, we might hold a session on campus where they can bring questions about their homework or something they're struggling with in class. We also coach them on how to do well in an interview or fill out a [college] application."
Dulcé, a 16-year-old junior at HHS, is interested in the medical field and landed a volunteer position at Rockingham Memorial Hospital through SV-SLI. "Since I was little, I always wanted to go to college and to be a doctor," she said.
SV-SLI scholars receive the added benefit of developing close relationships with their JMU student mentors. While their interactions are mostly organized around campus activities, the students will exchange texts and emails, as well as get together off-campus for group activities, such as ice-cream socials and bowling.
"It lets you know that you have someone there with you who's been through what you're going through," Dulcé said of Gonzalez, her mentor. "She's kind of like an older sister. She keeps me on track. She'll say things to me like, 'you can't slack off or you'll get behind. You have to pay attention.'"
Gonzalez said during her mentoring of Dulcé, she has watched her "grow as a person and come out of her shell," including becoming a local activist for immigration reform. "When I see her walk across that stage [at graduation], it will be a little emotional for me," Gonzalez said. "I hope we will continue to stay in contact with each other as she goes on to college."
As a result of the experience, Dulcé has found herself mentoring others. "I've recommended this program to my friends who are younger," she said. "I try to encourage them to keep their grades up. Some of them think that because they're Hispanic they can't be successful, but I tell them you have people around you that can help you."
The mentoring program has been rewarding for JMU students as well.
"This program is so amazing, the values that it has and just making sure the students have the confidence they need," Parada said. "I'm so proud to be able to help a fellow Latino become successful."
###
By Jim Heffernan ('96), JMU Public Affairs
Jan. 6, 2014