News
Dingledine gift, easement to enhance teaching and research on Northern Neck
---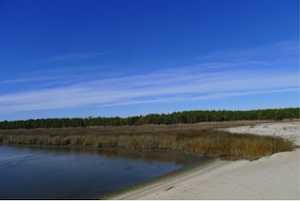 Tom Dingledine, a longtime friend and benefactor of James Madison University, has given JMU a gift of 37 acres in the Northern Neck of Virginia for students and faculty to use as a field laboratory for research and teaching. In addition to the 37 acres at Bluff Point, Dingledine recently placed an adjacent 860-acre parcel into a conservation easement held by the North American Land Trust that provides JMU the opportunity to conduct research and teaching exercises in its pine forests and saltwater marshes neighboring the Chesapeake Bay.
University faculty who have visited the site are eager to study areas such as water quality, marsh ecology, archaeology, geology, engineering, shore land mapping, public history and environmental writing.

"This presents a natural connection for us as JMU and Harrisonburg are located in the Chesapeake Bay watershed," said Dr. Jerry Benson, provost. "The new field research site graciously provided by Tom Dingledine creates an opportunity for our existing research efforts to expand in further exploring the full cycle of ecological impact on the bay."
"While the acreage at Bluff Point is a generous donation to JMU, the 860-acre easement is in effect a gift to all the people of Virginia," said David A. Johnson, director of the Virginia Department of Conservation and Recreation. "This easement will have long term benefits for local water quality, including on the Chesapeake Bay, and protects habitat for several significant species including the rare tiger beetle."