News
Students show interest in learning 3D printing, teachers needed
---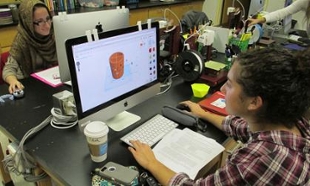 Mathematics Professor Laura Taalman started exploring 3D printing in February. A few months later she received support from the College of Science and Mathematics to set up a classroom in Burruss Hall for teaching 3D printing to students. In October, she started teaching two sections of a second-block course, with each class filled to its 16-student capacity.
Taalman will teach the general education class again in the spring for the full semester, and the class—and its waiting list—will once again be full. Students have shown they're interested in the technology that regularly makes news headlines for the innovative ways people use it. Now Taalman hopes other faculty will join her in teaching 3D printing as well as exploring how they can use it in their own scholarly endeavors.
"I have no training in 3D printing or modeling," Tallman said. "If I can learn how to do this then anyone else can too."
What students are saying
Brandon Euker, a sophomore geology major, said the class combines a creative, "artsy" element with a technical element that is not difficult to grasp. After creating a toothpaste tube squeezer for his first project, he was looking forward to creating models of crystals for his final project. Mineralogy students are routinely taught about the various angles in crystals with wooden blocks shaped like crystals. But Euker said he can print his own models much cheaper then buying them.
Megan Holden, a freshman theater and dance major, made a bookmark for her first project. She based the design on a bookmark she liked, but made it thinner so it would fit better between pages. The plastic bookmark was also lighter than the one she used as a model. For her final project, Holden was thinking about making miniature props that she could use to design sets. "There are so many practical uses," she said, noting that 3D printing experience might be a good skill to list on a resume. "It might make a difference in getting a job."
Marissa Halpert, a senior computer science major, thought the printers would be much larger than the desktop models used in the class and that they would take longer to print than they do. "The technology is so cool and so is the software," she said. And just what Zach Schuhmacher, a freshman kinesiology major, needed to design mounts and other parts for adding a motor to his long board.
Marymount faculty members take a look
The new classroom, dubbed JMU-3-SPACE (Solid Printing Active Classroom Experience), also caught the attention of a pair of Marymount University faculty members who visited the room in October.
"I think it's exciting to see what we might be able to do," said Dr. Elsa Schaeffer, a mathematics professor.
Robin Wagner, a professor of interior design at Marymount, said she and Schaeffer were looking for equipment ideas that could be funded with a grant she received.  One of Wagner's ideas for 3D printing is to design furniture suitable for people with disabilities, including amputees.
In addition to teaching the general education course in the spring, Taalman plans to teach an introduction to math research course, where students studying knot theory will be able to print the objects they're investigating. But the classroom has potential for much more.
A CIT Sandbox will be held during the spring semester where interested faculty can learn about 3D printing and modeling. Participants will learn how to print 3D models as well as discuss ways to incorporate 3D printing into their courses. The sandbox will be an exploratory project in which selected faculty and CIT will work and learn together, generate ideas, and reflect on discoveries. Participants will have 24-7 access to the 3D printers in the JMU 3-SPACE university classroom.