News
Alumna speaker Glennon Doyle Melton: truth teller and hope spreader
---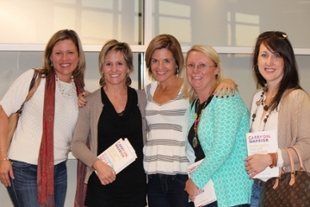 Glennon Doyle Melton ('99) often says "We Can Do Hard Things."  She just did not imagine that stepping onto the JMU campus after 16 years was going to be one of them.  The author of TheNew York Times best-selling memoir "Carry On, Warrior" and founder of Momastery.com, an online community where 100,000-plus readers meet daily to read Melton's shameless and hilarious essays, was back on campus Nov. 3 to talk to alumni, community members and students.
Melton delivered two talks. The first, titled "Building Community Among Women," was followed by a meet and greet and book signing.  Melton's message is compelling.  "One thing we have in common is life is hard.  For all of us.  Nobody has it all figured out," she said.  "We can either be perfect alone or messy together.  And messy together is always better."
The audience of more than 250 alumni and community members responded to Melton's personal anecdotes with nodding heads, tears in their eyes and many, many moments of laughter.  "Even though I constantly write about how I have nothing figured out, everyone on earth asks me for advice," said Melton. 
Michelle LoVuolo Militello ('97) and Tamlyn Schafer Peterson ('97) saw the announcement that Melton was speaking at JMU and decided it was time for a reunion.  Militello travelled from New York City to meet up with best friend and college roommate Peterson who came in from San Francisco, Ca., — both visiting campus for the first time since graduating.  Militello said Melton's writing resonates with her, "She just tells it like it is. I intensely dislike pretense and the thought that so many people hide behind their perfect pictures and clothes, saying how great everything is," she said. "Life is so hard, and Glennon actually says that. Most people don't."
Melton did not hide the hard parts of her life from a packed student audience at Grafton-Stovall Theatre that evening, telling the students that she was a bulimic at age eight and started abusing alcohol and drugs in college, using her addictions as armor to hide her underlying problems.  Melton relived her story in order to help the students, imploring them "to just be kind to one another" and to find some "truth-telling spaces" in their lives.  Callie Timpanaro, a senior from Hillsdale, N.J., is president of her sorority and said she was inspired and touched by Melton's speech.  "If everyone is kind to one another, no one needs to wear any armor because they will not fear being judged or belittled," said Timpanaro.  "Women can help each other take off each coat of their armor by having truth talks where everyone is completely honest and judgment free."
Melton's journey to viral blogger and best-selling author started four years ago as a way to express herself while raising three young children.  Her essays on marriage, motherhood, faith, addiction, recovery and connection have an ever-growing number of followers called Monkees.  According to Momastery.com, "We call ourselves Monkees because we're like monks in that we put our faith in something beyond ourselves, we find value in quiet and we practice living peacefully in community — here on the Internet and beyond. We're unlike monks in that we curse and watch trash TV and become annoyed quite easily. So we settled on Monkees. We are the Monkees."  Melton also is the creator and president of the non-profit organization Monkee See-Monkee Do that connects families in need with donations of time, talent and funding from the Monkees.  Her Love Flash Mobs and Helping Hands holiday projects have been an inspiration to both the givers and the receivers. 
Melton is a speaker and regular contributor to Huffington Post and other publications.  "Carry On, Warrior" and Melton's philanthropic work have been featured on The TODAY Show, The Talk, Ladies' Home Journal, Woman's Day, Glamour UK, Family Circle, Parents Magazine and American Baby, among other television and print outlets.  She lives in Florida with her family.
By Paula Harahan Polglase ('92,'96)