News
Cooper demonstrates power of choice in business ethics
---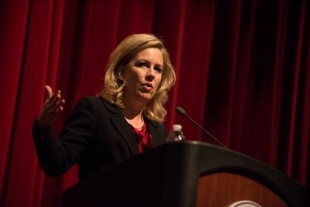 "Think about your own lives and what your mission is," Cynthia Cooper said. "Your values and what you stand for. Not just your career, but who you want to be."
Cynthia Cooper, WorldCom whistleblower and internationally recognized expert on ethics and leadership, presented her advice on "Ethical Leadership for the 21st Century" to a standing-room-only crowd of students, faculty and community members in Grafton-Stovall Theatre.
While at WorldCom, Cooper served as vice president of the internal audit. She and her team revealed history's largest case of corporate fraud at the time, amounting to $3.8 billion and resulting in a 25-year prison sentence for the CEO of WorldCom.
Cooper emphasized that WorldCom's corporate fraud did not amount to billions of dollars overnight. It encompassed many different people, at different chains of command, over time. It was the product of small breaches in ethics, accumulating with each instance into something more and more egregious. "We're all faced with ethical dilemmas," she said. "The foundations of our character are laid brick by brick every day."
The audience listened with eagerness as Cooper described how the fraud grew and unraveled. There were the mid-level managers who knew the gravity of their actions, but defaulted to orders from higher-up leaders; the accountants who turned a blind eye; the CFO who ordered staff to change the book numbers, arguing that it would "work itself out next quarter"; the employees who, knowing the danger of their actions, drafted their letters of resignation and never sent them; and the people who, despite the guilt and stress it caused them, continued to forge the numbers each quarter with upper management's assurance that "this would be the last time."
"You don't have to be a bad person to make bad decisions," Cooper pointed out, which was perhaps WorldCom's biggest problem. Whether it was pressure or a sense of invincibility, otherwise good and smart people made mistakes that changed their lives forever.
But through perseverance, courage and hard work, Cooper was instrumental in bringing the fraud to justice. She challenged her superiors, constantly asked questions, and didn't back down even when her supervisors told her to. "Listen to your instincts," she told the audience. "If you feel something in your gut, follow it."
Before its scandal, Cooper described WorldCom as "the place everyone wanted to work." Its CEO was on the cover of Businessweek, its CFO won CFO of the Year in CFO magazine, and she watched as dilapidated cars in the company's parking lot were replaced by BMWs. Cooper had to cope with the aftermath of WorldCom's exposure: thousands of employees were laid off, retirement funds and investments were lost, a sense of distrust permeated the office, the company declared bankruptcy, and the state of Mississippi, having taken pride in WorldCom as the state's only Fortune 500 company, felt disappointed and ashamed. "All of a sudden, the press was calling me a whistleblower," Cooper said. And in many people's eyes, that was not a good thing.
Despite knowing that what she did was right, Cooper experienced depression and found it difficult to move past the scandal. She relied on her faith, her family and her friends for support and stated, "I could have either let (it) ruin my life, or go in a different direction."
Now owning her own consulting firm, Cooper is widely credited for her accomplishments and her ethical reasoning. Cooper has been nationally featured in The Wall Street Journal, USA Today, CFO Magazine and Businessweek. She was named one of Time Magazine's Persons of the Year in 2002. She was highlighted as one of 25 influential working mothers in Working Mother magazine. Cooper was the first woman to be inducted into the American Institute of CPA's Hall of Fame and to receive the American Accounting Association's Accounting Exemplar Award. She is also a recipient of the Maria & Sidney E. Rolfe Award for her contributions to educating the public about economics, business and finance.
"I had a choice to make," Cooper said. "I had loyalty to my supervisors, but I went door to door, from the bottom up, asking for support about the entries. It really was in response to my gut."
Cooper warned the audience about the ripple effects of immoral decisions: the choices of just a few people can have a tremendous impact on others. She recalls one testimony in which a WorldCom employee said, "We probably never should have made those entries. But once we made them the first time, it was difficult to stop."
"We all have the power of choice," Cooper said. "You can give it away, but no one can take it from you. How would you feel if the decisions you've made landed on the cover of a newspaper?"
Leaving the audience with advice on leading ethical lives, Cooper said, "Be intentional about the decisions you make. We need to know what we stand for – what our North Star is. If you don't define that, you may not stand for anything. There were times when I was scared to death. I remember my hands shaking. But my dad always told me, 'Don't ever allow yourself to be intimidated.' That stuck with me throughout the process."
The Madison Vision Series was established to honor James Madison and his conviction that cultivating an informed and engaged citizenry is essential to the health of our republican democracy. The series brings scholars, thinkers and leaders to campus for lively explorations of issues facing our contemporary society. The series is organized by the Office of the President in conjunction with the Madison Institutes of JMUs Department of Outreach and Engagement.
# # #
Nov. 14, 2013
By Rosemary Girard ('15)
Published: Thursday, November 14, 2013
Last Updated: Thursday, October 20, 2016