Athletics
Embracing Honors challenge
---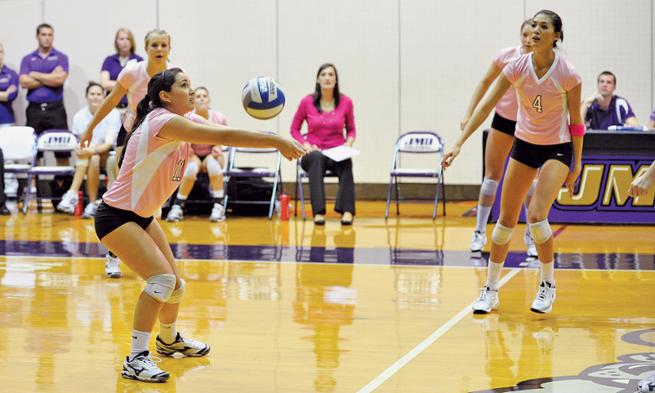 Student-athletes compete in the top level of JMU academics
By Meaghan MacDonald ('13)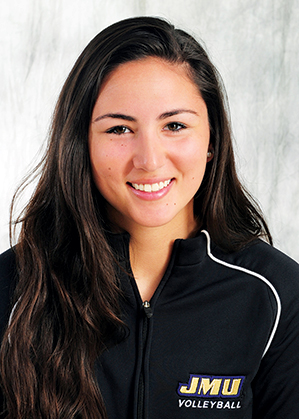 Up Close
Sierra Hahn-Ventrell ('15)
Engineering, business
Volleyball
Appeared in 15 matches, recording 13 digs, four service aces and an assist
CAA Commissioner's Academic Award Recipient
Smithsonian National Zoo intern
Embracing the highest values of sportsmanship and competition has benefits that extend far beyond the playing field. JMU student-athletes are supported in maintaining a balance between academic scholarship and varsity team demands.
JMU faculty members encourage student-athletes to balance competition with respect, victory with honor and contest with scholarship, and to channel the character-building power of athletics performance into a force for positive change.
JMU President Jonathan R. Alger says that during his "Why Madison?" Presidential Listening Tour many student-athletes told him that they chose JMU because of the academic program. "It is reassuring how much Madison student-athletes truly want to excel as students—in academics and organizations outside of their sport—despite the challenges of a rigorous athletics schedule," Alger says. "Their priorities are in the right place and align with the JMU philosophy that intercollegiate athletics are integrated into the overall educational mission."
A number of JMU's varsity athletes are taking their academic winning spirit to the next level as members of the JMU Honors Program. To maintain status in the JMU Honors Program, a student must maintain a 3.25 GPA and take at least one honors-level course each semester.
Rising sophomore Sierra Hahn-Ventrell ('15) of Chevy Chase, Md., told Madison magazine that the Honors Program influenced her decision to chose JMU. "My parents and I decided I had to be in the Honors Program to challenge myself academically. Without the JMU's Honors Program I may have chosen a different school," she says.
While there are both challenges and joys in being an honors student-athlete, Hahn-Ventrell is staying focused. "It will be such an accomplishment to compete in a varsity sport and complete the Honors Program," she says "I will be very proud of my accomplishments once I've completed my four years."