News
JMU, University of Salamanca to offer dual maste''s program
---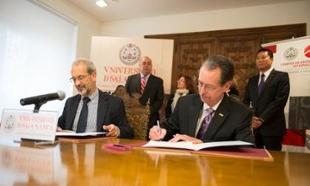 Dr. Jerry Benson, JMU provost and senior vice president for academic affairs, signed an agreement this week to establish a dual master's program with the University of Salamanca.
James Madison University is teaming up with one of Europe's oldest universities to offer a new dual master's program to provide teachers with Spanish language skills rooted in cultural understanding.
"We want to offer students who plan to teach more than just language skills," said JMU Provost and Senior Vice President for Academic Affairs Dr. Jerry Benson, who signed the agreement this week at the University of Salamanca, which was established in the 13th century. "Language is an essential part of culture. Students who study and master a foreign language in the culture of its origin will have a terrific advantage — especially when they plan to teach. What better place than Salamanca, Spain?"
The two universities have partnered on a language-intensive study abroad program since 1987. JMU's Semester in Salamanca program celebrated its 25th anniversary in April.
Designed for Spanish teachers in the U.S. who want to further their academic preparation, the new master's program will combine JMU's exceptional teacher education program with the peerless Spanish language instruction of the University of Salamanca. Upon completion, students will earn a master of languages and culture from the University of Salamanca and a master of education from JMU.
The program will combine classroom and online instruction at both campuses, allowing teachers to continue to work while pursuing their degree. Students will enroll at JMU during the summer and then attend classes in Salamanca the following summer. The rest of the courses are offered through online teaching. Students will be supervised by faculty from both institutions through tutorials and also have the opportunity to engage in a practicum. The master's program is scheduled to launch in the summer of 2014.
"This is how you do it when you aspire to be the model of the engaged university," said Benson. "You give students the opportunity to engage themselves in an immersive experience." 
###
Oct. 11, 2013