News
Schneider to link liberal education, student success in JMU talk
---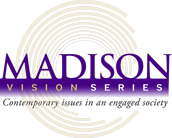 The president of the leading national organization devoted to advancing and strengthening undergraduate liberal education will speak at James Madison University Wednesday, Oct. 16, in the second presentation of the new Madison Vision Series: Contemporary Issues in an Engaged Society. The event is free and open to the public.
Dr. Carol Geary Schneider, who heads the Association of American Colleges and Universities, will present "Liberal Education and Student Success: Making the Connections, Mapping the Pathways" at 5 p.m. in the Concert Hall of the Forbes Center for the Performing Arts.
Under Schneider's leadership, the 1,300-member professional organization has launched Liberal Education and America's Promise, a public advocacy and campus action initiative designed to engage students and the public with what really matters in a college education for the 21st century.
In a guest editor's note she wrote for "Madison," the magazine of JMU, Schneider stated: "Framed as a combination of big-picture thinking and real-world application, liberal education for the 21st century should prepare every student, as JMU urges, to 'be the change.' A liberal education prepares students to think through their own ethical responsibilities, as we all work toward change for the greater good."
Schneider has published extensively on all the major areas of her educational work and has taught at the University of Chicago, DePaul University, Chicago State University and Boston University. She is a graduate of Mount Holyoke College with a bachelor's degree in history. She studied at the University of London's Institute for Historical Research and earned her Ph.D. in history from Harvard University.
Schneider is the recipient of 11 honorary degrees, the 2013 Ernest L. Boyer Award from the New American Colleges and Universities and the Joseph Katz Award from the Association for General and Liberal Studies. She was honored as one of Diverse Magazine's "25 Leading Women in Higher Education" in 2013.
The Madison Vision Series was established to honor James Madison and his conviction that cultivating an informed and engaged citizenry is essential to the health of our republican democracy. The series brings scholars, thinkers and leaders to campus for lively explorations of issues facing our contemporary society.
The series is organized by the Office of the President in conjunction with the Madison Institutes of JMU's department of Outreach and Engagement. The first Madison Vision Series presentation on Sept. 17 featured Dr. A.E. Dick Howard, the Miller Burkett Miller Professor of Law and Public Affairs at the University of Virginia, a constitutional law expert.
# # #
 Oct. 9, 2013
Published: Wednesday, October 9, 2013
Last Updated: Thursday, October 20, 2016