News
Madison Collaborative leaders named
---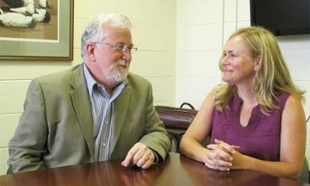 Dr. William J. Hawk and Dr. Lori K. Pyle
Dr. William J. Hawk and Dr. Lori K. Pyle have been selected to serve as the leadership team for The Madison Collaborative: Ethical Reasoning in Action, James Madison University's innovative curricular and co-curricular program designed to support the university's mission "to prepare students to be educated and enlightened citizens who lead productive and meaningful lives."
Hawk is chair of the team and Pyle is associate chair. Both served on The Madison Collaborative Task Force during the initial development of the plan. Now they will lead the effort to encourage the JMU community to apply an eight-question ethical reasoning framework when evaluating the ethical dimensions of a problem in personal, professional and civic life.
Hawk is a professor of philosophy who has been committed to the university's General Education: The Human Community academic program, serving as coordinator of Cluster Two: Arts and Humanities. He joined the full-time faculty in 2001 when he became head of the Department of Philosophy and Religion. Before coming to JMU, Hawk was a professor of philosophy at Eastern Mennonite University, where he served as vice president and academic dean from 1996 to 1999. He taught part time at JMU from 1987 to 1989 as a visiting assistant professor of philosophy.
Pyle is a graduate of JMU's doctoral program in postsecondary leadership in the School of Strategic Leadership Studies. While in the graduate program, she was employed as an information systems business analyst at the university. She also holds an undergraduate degree in psychology and a master of business administration degree in health care administration, both from JMU. Pyle's deep involvement with The Madison Collaborative stems from her submission of a proposal that was selected for further development, including co-writing with Hawk a white paper, "Educating for Responsibility." That proposal and one other were consolidated and refined to form the framework for the collaborative.
The Madison Collaborative will develop student critical thinking skills by promoting eight key questions to ask when facing difficult ethical decisions. Faculty and Student Affairs staff using the key question framework will draw on their expertise to enrich ethical reasoning practices. JMU's freshman class, the Class of 2017, began their university experience by considering "It's Complicated," a simulation involving ethically laden decisions about rescue and recovery after a devastating hurricane.
Implementation of The Madison Collaborative in the 2013-14 academic year will build on the ethical culture already in place at JMU, Pyle said. "Many organizations and people at JMU talk about integrity, professional ethical codes and other related topics. They seem ready to study ethical reasoning as an applied critical thinking skill."
From working to incorporate ethical reasoning into their courses to engaging in research and program innovation grant projects, faculty and Student Affairs professionals are embracing the collaborative framework. Hawk, whose dissertation focused on ethics, is excited to work with other teachers in what he calls "an unanticipated dream to contribute to ethical reasoning learning."
"This is going to be a real signature for the university," JMU President Jonathan Alger said Aug. 16 when outlining The Madison Collaborative and introducing Hawk and Pyle at the annual President's Address to the Staff.
"They complement each other well," said Dr. Lee Sternberger, associate provost for academic affairs, executive director of the Office of International Programs and former chair of The Madison Collaborative Task Force. "Bill has deep passion for the concept of ethical reasoning and is an inspired teacher. Lori shares that passion, has a deep knowledge of the project and brings a business and communication acumen that will be extremely useful as implementation continues."
More information about The Madison Collaborative is available at http://www.jmu.edu/mc.
# # #
 Aug. 23, 2013
Published: Friday, August 23, 2013
Last Updated: Tuesday, February 13, 2018