Science and Technology
Love of hellbender fuels graduate student's desire to aid amphibians
---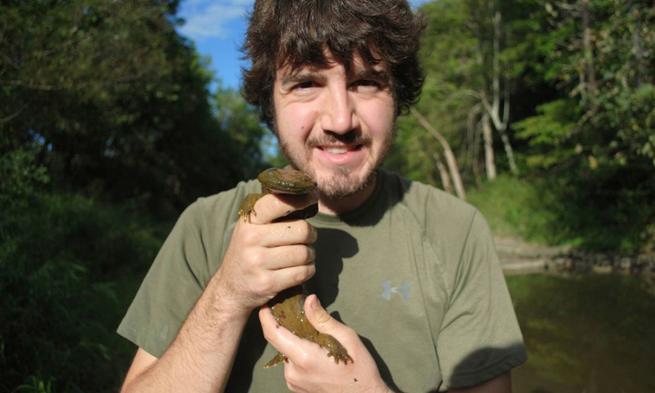 The best way to catch a hellbender salamander is to get as many people as you can to lift rocks and one brave person who is willing to put on a snorkel and go under the rocks to look for it.
Andy Loudon knows this from experience and says that encountering a hellbender that is protecting a nest can get a bit dicey. Loudon, who graduated in May with a master's degree in biology, has been a fan of the hellbender, the largest salamander in North America, since be began studying them as an undergraduate at Mount Union College with Dr. Brandon Sheafor and Greg Lipps about four years ago.
At JMU, the Salem, Ohio native has been working in the lab of Dr. Reid Harris, exploring ways to help amphibians combat a deadly skin disease that has been blamed for wiping out about a third of the world's amphibian populations. The disease, Batrachochytrium dendrobatidis (Bd), essentially suffocates frogs and salamanders by hampering their ability to breathe through their skin. The disease has not been as lethal to hellbenders, which can grow to 30 inches in length, but it is still a concern for the species that is endangered in several states.
Harris has gained international attention for his discovery that some amphibians have a bacteria on their skin that fights off the fungus. He and colleagues are now working on ways to grow and spread the beneficial bacteria to amphibians in danger of getting Bd.
Loudon, along with Dr. Kevin Minbiole, an assistant professor of chemistry at Villanova University and formerly a member of the JMU chemistry faculty, has been looking into the possibility that a compound possibly produced by amphibians can be combined with the bacteria to form an even stronger defense against the fungus. The results are promising thus far. "What we're finding is when you have the bacteria with the amps (antimicrobial peptides), they're more powerful. And you don't need as many amps or the metabolites produced by the bacteria to ward off the fungus," Loudon said.
Loudon will continue his research at JMU and teach biology labs next year before pursuing a doctorate degree. He also will continue working with the Ohio Hellbender Partnership and has advised a fledgling program in Ohio prisons to raise hellbender salamanders. The program is modeled after the Sustainability in Prisons Project started in the state of Washington, where prisoners raise endangered frogs. The program also addresses environmental stewardship issues in the prisons such as water and electricity usage, recycling and composting. In addition, he has been working with Dr. Kim Terrell at the National Zoo in Washington, D.C., on examining the effects of climate change on hellbenders.
"What it comes down to, I love hellbenders," said Loudon, who last year helped collect hellbender eggs that were hatched at the Toledo Zoo. The zoo has about 300 hellbenders, which it will raise for three to four years before releasing them back into the wild. The Columbus Zoo also has hellbenders and has been vital within the Ohio Hellbender Partnership, said Loudon.
By Eric Gorton ('86,'09M), JMU Public Affairs