News
JMU students aid VCU research into spread of drug-resistant genes
---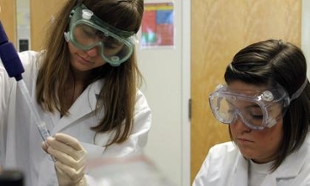 Brooke Sauder, left, and Alexis Brouillette are searching for viruses that may be key in how drug-resistant genes spread.
When Alexis Brouillette enrolled in JMU's viral discovery course last fall, she was just looking to get an extra credit in the first semester of her junior year. Now she's spending her summer honing the research skills she learned in a way she never anticipated.
"I ended up loving it," Brouillette said about the course that provides research experience and basic laboratory skills to students in any major.
Brouillette, a rising senior majoring in health science, is working in the lab with Brooke Sauder, a rising junior majoring in biology. Together they are collaborating with researchers at Virginia Commonwealth University to try to solve the mystery of how drug-resistant genes spread in Methicillin-resistant Staphylococcus aureus—better known by the acronym MRSA.
Discovered in 1961 in the United Kingdom, MRSA is one of the most dreaded causes of infections in hospitals. Even more troubling, during the past two decades, new strains of MRSA have become more common among the general population and a growing problem worldwide.
Dr. Gordon Archer, a professor of medicine in VCU's School of Medicine, believes that bacterial viruses may be responsible for spreading the drug-resistant genes. That's where Brouillette, Sauder and other JMU students have joined the project.
"He needed people to find viruses to see if they had an antibiotic resistance gene in them," said Dr. Louise Temple, professor of integrated science and technology, who leads the viral discovery course with Steve Cresawn, assistant professor of biology. Temple, who earned her doctorate at VCU, has known Archer for years but had never collaborated with him in research.  Always on the lookout for more advanced projects for her viral discovery students, she saw Archer's project as a perfect match.
"In a way, we've created a monster," Temple said of the viral discovery course where students learn to look for and identify viruses in soil samples collected on campus and from around the East Coast. A couple years ago, she started a more advanced "superphage" course for students who wanted to continue the viral discovery work. "All these students learned that research is cool and that they can actually do it and they wanted to keep doing it," she said.
Brouillette and Sauder are looking for the genes mec and ccr in environmental samples such as runoff water and fecal material, where bacteria abound. The two genes are what make Staphylococcus aureus resistant to the penicillin class of antibiotics. When they find the genes, they clone small portions of them into E.coli in order to get enough DNA for sequencing. "After sequencing the clone, we can perform bioinformatic analysis to gather more information about the genes," Sauder said. The undergraduates do not work directly with the resistant bacteria at JMU or VCU.
Sauder and Brouillette meet regularly with the VCU research team via videoconference to share notes and results. Taryn Boyle, another rising senior at JMU, worked on the project at the VCU lab for several weeks this spring and Emily Pelto, a rising junior, is there now.
"It was a great glimpse into the real dynamic process of scientific research as opposed to experiments with certain, guaranteed results," said Boyle, also a biology major who is interested in becoming a physician's assistant.
Pelto said her work at VCU would not have been possible without taking the viral discovery and superphage courses. She started an internship there May 28 and is looking into whether the mecA gene can be transferred in the environment via transduction, a way bacteria transfer their DNA to one another.
"Overall, the research experience has helped me realize that I love learning about viruses and bacteria," said Pelto, who like Boyle is a biology major in the physician assistant track.
Some of the costs of the research, including student stipends, is being paid from a $4,100 4-VA grant Temple received in February. The 4-VA consortium was organized in 2010 by the presidents of JMU, George Mason University, University of Virginia and Virginia Tech, in an effort to foster collaboration and to meet the needs of the Commonwealth identified by the Governor's Higher Education Commission and his Jobs Commission.
Temple said a grant for additional funding for the project will be submitted to the Commonwealth Research Board this fall and that the project could continue for two or three more years.
By Eric Gorton, ('86, '09M), JMU Public Affairs
Published July 3, 2013