JMU in the Community
We did it!
---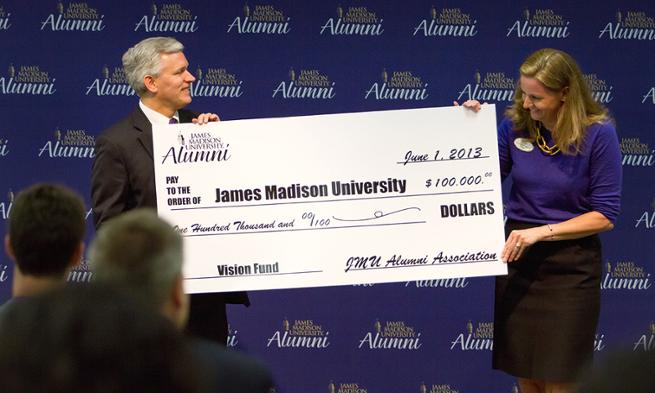 The Madison Forever Vision Fund is off and running
James Madison University's future just got $340,000 brighter.

Thanks to gifts from about 2,800 donors—many of whom had gifts matched at 50 percent through a $100,000 gift donated by the James Madison University Alumni Association—the Madison Forever Vision Fund now has $339,184 to be used to help answer a wealth of different challenges. Those include seed money for new program development, resources for obtaining exceptional talent, funds for strategic partnerships and important support for many big dreams in Madison's future—all critical elements in JMU's quest to become the national model for higher education.
Several pivotal gifts made as part of the three-month-long Alumni Matching Gift Program helped catapult this fundraising effort well beyond its $300,000 goal. Among those were:

• On behalf of Joe Showker ('79) and his wife Debbie Showker ('78), The Community Foundation of Harrisonburg and Rockingham County made a $25,000 contribution.
• A leadership gift from JMU Alumni Association board president-elect Larry Caudle ('82) and his wife Barbara Caudle ('81).
"We're honored to be a small part of a big vision," Joe Showker says. "We encourage our JMU alumni and friends of the university to get on board with President Alger's Vision Fund."
In describing part of the motivation behind their gift, Barbara Caudle captures the essence of the couple's longtime commitment to JMU and the prospect for greatness that defines the Madison Forever Vision Fund.
"It's time to give back," Barbara Caudle said. "This is an opportunity to elevate JMU and enhance our reputation as a best-value school. By doing things with students, the school, being engaged, giving, enriching the school's reputation—that's how we can stay involved."
The combination of all these gifts represents a great beginning, and a brighter future for so many. The table has been set. The Madison Forever Vision Fund is off and running.