News
Keeping up with the changes
---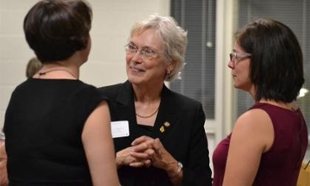 Ann Myers (center), professor and head of social work at JMU, speaks with alumna during the department's 50th anniversary celebration in 2012.
When Ann Myers arrived at Madison College as a freshman in the fall of 1965, men were still day students. The women of Madison were granted two 11 p.m. curfews per month and met their dates for the evening in Alumnae Hall. The buildings were mostly bluestone, although plans were being drawn for a cluster of brick residence halls in an area of campus that would become known as the Village.
A first-generation college student, Myers had come to Madison to study nursing. "I knew that I would be in some sort of helping profession," she said. However, she soon found herself gravitating toward social work, an emerging field in the wake of President Lyndon Johnson's War on Poverty and other welfare programs of the era.
After graduating in 1969, Myers left Harrisonburg to further her education, earning a master's degree in social work two years later and working in social services for a time. When she returned to Madison in 1973 to teach, the changes on campus were evident. "There was already a difference in the composition of students, in the number of students and the number of buildings," she said.
Forty years later, Myers is still keeping up with the changes at Madison — now James Madison University — where she has served with distinction as a professor of social work, department head, program director, advisor and co-chair of the committee overseeing JMU's reaccreditation through the Southern Association of Colleges and Schools.
Myers is set to retire this month, her Madison career having spanned more than four decades and four administrations, from G. Tyler Miller to Jonathan R. Alger.
"One of the things about JMU that is different than a lot of universities is the opportunity you have to engage in lots of different things," Myers said. "We're about change and social work is about change. So for me there was a good fit there. Every time I thought I might leave the university and do something else, there was something new and different for me to do. In some respects, I've had multiple careers here."
One of Myers' final tasks will be to help transition her successor, Dr. Lisa McGuire, formerly associate professor and director of the bachelor of social work program at Indiana University-Purdue University Indianapolis. Once retirement sets in, however, Myers said she will deliberately try to stay away. "It wouldn't be fair for me to hang around, either in a teaching role or an adjunct role. She needs to be able to establish her own culture."
The social work program at Madison began in 1962 as part of the sociology and anthropology department. Under the direction of Dr. Cecil Bradfield, professor emeritus of sociology, the program received accreditation from the Council on Social Work Education in 1977 and in 1989 became its own department at JMU with Myers at the helm. Since that time, it has grown from 50 majors to around 250, and graduates have gone on to more than 50 master's programs around the country. In addition to offering the bachelor's degree in social work, the department is home to three minor programs of study and a certificate program in gerontology.
Myers said one of the biggest changes during her tenure as department head has been the move toward competency-based assessments for social work majors. Beyond their coursework and field placements, seniors in the program must complete an oral examination with faculty prior to graduation. In 2007, the department received the Provost Award for Excellence in Assessment.
For Myers, the most rewarding aspect of teaching is helping students, especially those who may be struggling academically, to realize their potential. "That's fun, seeing their maturity and ability to develop the insight and self-reflection that's necessary to be a good practitioner."
Myers has also served as director of the department's Aging, Family and Intergenerational Studies program and helped make service learning, including study-abroad opportunities, a core component of the curriculum. In addition, she has served as a site visitor for the Council on Social Work Education since 1993 and a program reviewer for the Association of Gerontology in Higher Education since 1999.
Myers' philosophy of leadership involves shared decision-making and open lines of communication. "People have the right to participate in decisions that affect them," she said.
Nancy Owens, director of JMU's Lifelong Learning Institute, a social work outreach program for adults in the central Shenandoah Valley, said Myers is adept at offering guidance and support "without looking over your shoulder."
Myers has also been heavily involved in the university's reaccreditation process, most recently as co-chair of the SACS Commission on Colleges steering committee. JMU received no recommendations — a perfect score — during the SACS team's April visit to campus.
Her colleague on the panel, Dr. Herb Amato, associate dean of university studies, said Myers brings not only vast institutional knowledge to the process, but also a department head's perspective. "It's easy for administrators to say, 'This is what we want.' Ann is there to say, 'This is what we have.'"
Myers has received numerous accolades throughout her career, including the Outstanding Baccalaureate Social Work Director Award (2005), JMU's Women of Distinction Faculty Award (2006), the Adult Degree Program Faculty Advisor of the Year (2010) and the Provost Award for Excellence in Leadership (2010). However, it is a more recent recognition that is especially meaningful. Having the annual R. Ann Myers Distinguished Social Work Alumni Award named in her honor in 2012 "was probably the most special," she said, because the faculty in the department wrote the recommendation letter.
As she looks forward to retirement, volunteering and spending more time with her grandchildren, Myers said she will miss the camaraderie with JMU faculty and administrators as well as her work with the Lifelong Learning Institute, which today boasts more than 500 members, many of them seniors. "They're energetic, they're vivacious and they're such good role models for the aging population," she said.
Myers believes that universities like JMU should be involved in their communities and strive to make a positive contribution. "I firmly believe that if they do those kinds of things, everyone benefits." 
###
By Jim Heffernan ('96), JMU Public Affairs
June 13, 2013 
Published: Thursday, June 13, 2013
Last Updated: Thursday, October 20, 2016