News
Chemistry student to present research on Capitol Hill
---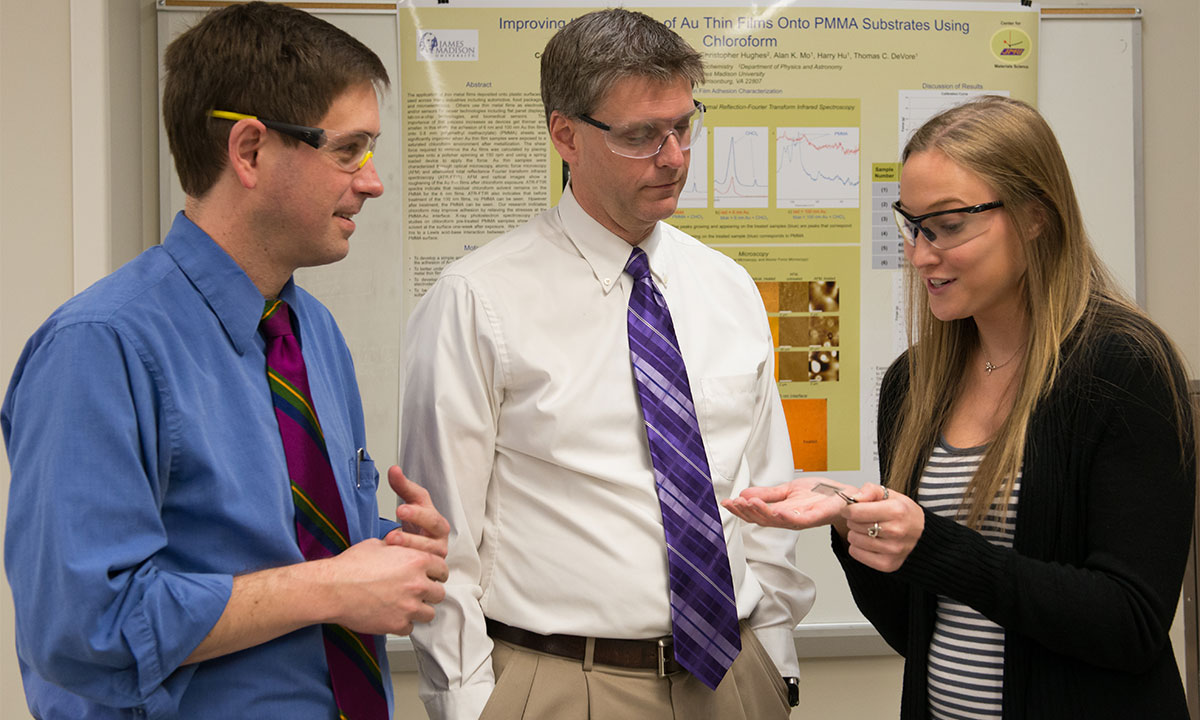 Courtney Wardwell became a fan of the TV drama CSI in high school. Little did she know that the past time would spark an interest in forensic science and research that would result in a trip to Congress.
Wardwell, a senior chemistry major, is one of 60 students nationwide who was selected from more than 800 applicants to present their undergraduate research at the 2013 Posters on the Hill event April 23-24 at the Rayburn House Building in Washington, D.C.
An active member of the Alpha Phi sorority, Wardwell is the fifth JMU chemistry student to participate in the event.  The last JMU student to participate was Hanna Shepherd, a 2009 geology alumna who now works for the Virginia Division of Geology and Mineral Resources.
Wardwell will tell Virginia congressmen about her research on "Increasing Thin Metal Film Adhesion to Polymer Substrates." The research focuses on quantifying the strength of the bond between gold film and plastic.  Getting gold to stick to plastic is important for a number of industries from biomedicine to computer chip manufacturers.
While Wardwell will enlighten her audience about the type of research she has participated in, she will deliver an equally important message about the value of undergraduate research and the need for continued funding. "The research is key to deciding career paths," said Wardwell. "It definitely helps you realize, 'I really love this. This is what I want to go into, or I don't really like this. It's not what I want to get into.'" 
Wardwell was accepted into four forensic science graduate programs for the fall 2013 semester and has decided to continue her studies at Virginia Commonwealth University, where she will pursue a master's degree in forensic science with a concentration in forensic chemistry on the drugs and toxicology track.
Posters on the Hill is sponsored by The Council of Undergraduate Research, an organization that encourages collaborative, undergraduate research between students and faculty.