News
Student project offers guidance on controversial natural gas drilling
---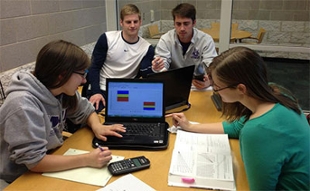 A tool to assist decision-makers in weighing the pros and cons of a controversial natural gas drilling process is being designed by a group of JMU engineering students.
"Our hope is that people will be able to use our modeling software to view predictions of impacts of hydraulic fracturing in a specific area," said Hillary Benedict, one of four seniors who have been working on the project for more than a year.
The project, which will be presented at the department of engineering's 2013 Engineering Poster Fair from 2-5 p.m. Friday (April 19) in the Rose Library flex space, is being done in an Excel spreadsheet, said Matt Wisniewski, but it could be used on other platforms. In addition to software, the project involves writing a manual on how to use the software.
Hydraulic fracturing, commonly called hydrofracking, is a process that involves using pressurized liquids to fracture rock to free trapped gas. Much of the controversy revolves around possible environmental contamination, especially of groundwater by the fluids used for hydraulic fracturing.
In designing their assessment tool, the students have focused on gathering data in an 86,000-acre area of Shenandoah Mountain, a mountain in the George Washington National Forest on the Virginia/West Virginia border. The students won't make a recommendation about hydraulic fracturing for the area, although when they first started the project, they thought they would.
"This project has really evolved," Benedict said. "We went into it thinking we were going to look at hydraulic fracturing, the entire process vs. coal or some other energy source and be able to say whether it is good or bad. Then we realized that was much more difficult. We're trying to remain as unbiased as possible. Our hope is that we can provide a tool so people can assess it themselves."
"I liked the fact that we got to mold our project into what we were really interested in," said Cari Troupe, who has been focusing on water quality in the study area as well as water quality standards.
Wisniewski said the project has been both challenging and rewarding and that it will look good on their resumes. "There have been times we stumbled and made mistakes, but it's been good to have that opportunity in such a safe environment. It has really been a phenomenal learning experience."
Chase Delans said the project has provided a top-notch design experience. "We have to design each step in it and then when it comes to the software, we have to integrate all the information we've collected, we have to integrate the equations that we're working with, the raw data we're getting and the data we're producing. And we have to design a program that is able to take user input and then spit out specific outputs that the customer is able to use."
Delans has focused on looking at the carbon emissions lifecycle assessment and details about how hydraulic fracturing operations are set up and work. He also has researched codes and standards regarding carbon emissions.
All four students say they are interested in pursuing careers in environmental engineering.
By Eric Gorton ('86, '09M) and James Hong ('14)