News
Russian historian is Harvard bound
---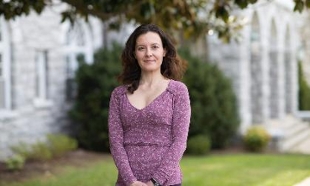 Dr. Maria Galmarini in front of Cleveland Hall, where her JMU office is located.
Earning a prestigious postdoctoral fellowship at Harvard University has mapped the next academic year for Dr. Maria Cristina Galmarini to do what she loves best – writing.
Galmarini, an assistant professor of history completing her first year of teaching Russian and world history at James Madison University, is one of six scholars to receive fellowships from the Davis Center for Russian and Eurasian Studies at Harvard University. Chosen from a field of 192 applicants, the fellowship winners will participate in the Davis Center's 2013-14 program, which focuses on the theme of Subjectivities and Identities in Eurasia. While she will spend most of her time at Harvard writing, she and her colleagues will participate in weekly fellowship seminars that are open to graduate students.
Galmarini will write a book manuscript, "The 'Right To Be Helped': Entitlement and Marginalization in Soviet Russia (1917-1950)," based on her research interests on the rights of marginalized peoples in the former Soviet Union and other socialist countries.
The fellowship will allow her to write "a complete rehaul" of her dissertation, focusing on a different set of questions to result in "a more mature product," she said. "I decided to take the hardest path and completely rewrite my dissertation. It will be about the same topic and it will be based partially on the same archival materials, the same evidence, but by restructuring the whole project, I am focusing on a different set of arguments."
"I'm going to focus more on the tension between vulnerable social groups' sense of entitlement to social rights and the reality of marginalization and how the sense of entitlement and outcomes of marginalization actually mutually grow into each other."
For example, Galmarini explained, in the early Soviet Stalinist period a man with disabilities claiming the right to social assistance also had to portray himself as a "deserving other." By doing that, this was reinforcing his marginalization, his condition of need.
Teaching JMU undergraduates affected Galmarini's decision to "rehaul" her dissertation. "When you teach you have to motivate students, you have to let them feel why it matters. Why it matters to talk about a single mother in 1922 in a little village in the Ural Mountains. Why do we need to care about her? Teaching really helps with that, with understanding the stakes."
Galmarini's path to teaching Russian history followed a circuitous route that included earning a bachelor's degree in Russian and German languages and literatures at the Catholic University of the Sacred Heart in her native Milan, Italy. "I really loved consuming Russian poetry and prose," Galmarini said. The first decade of the 21st century, a politically changeable time in the former Eastern Bloc, piqued her interest and academic research in historical questions, leading her to complete advanced degrees at the University of Illinois at Urbana-Champaign, where she earned an M.A. in Russian studies and a Ph.D. in history.
Galmarini will deconstruct her dissertation, which is based on four case studies of "non-economically active" people, the term used in the literature on social protection and social welfare to describe individuals needing government assistance, such as individuals with disabilities, unemployed single mothers and problematic minors.
"I'm going to tell a story now," Galmarini said. The book manuscript will be divided into two sections, one introducing the characters and agencies that assist – "agents and subjects of help" – with the other exploring the "evolution of help."
World Wars I and II immeasurably affected the European welfare environment as human casualties of the conflicts forced governments to question rights and resources.
"There are two principles that underpin states' understanding of social rights," Galmarini said. "One is contribution. You have to contribute somehow." For instance, individuals pay for healthcare insurance by buying it independently or by laboring for an employer who covers the premiums.
"But there is also the principle of need and suffering and hardship that's more difficulty to quantify," the professor said. "But it is very much part of every modern welfare system that I looked at. This means that modern states realize that there are layers of the population who do not contribute in monetary terms, in productive terms. These layers of the population cannot be excluded because they would create a burden for the state itself in the end. So every modern state has to find ways to care for these unproductive members of society. How modern states do that changes over time and space."
"I don't propose solutions in my book," cautioned Galmarini, "but it's a think piece that I wish decision makers might read and think through it. I think it is one of my duties as an intellectual to present broad issues to broad audiences."
# # #
April 11, 2013
Published: Thursday, April 11, 2013
Last Updated: Thursday, October 20, 2016