Health and Behavior
Clinic helps children develop and learn through play
---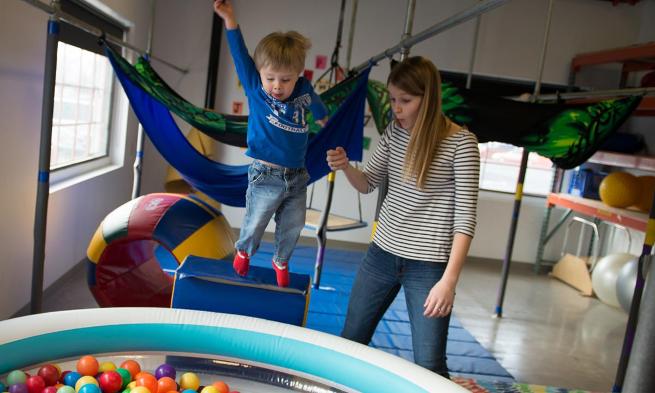 Inside the former Graves Electric building annex on West Grace Street, assistant professor of kinesiology Dr. Tom Moran counts backward from five and shakes a tambourine, stopping a group of preschoolers in their tracks. "Hands on your head. Touch your ears if you can hear me," he tells them.
Moran then instructs each child to take a seat in one of the hula-hoops around a circle on the concrete floor. Some youngsters cling nervously to their parents, but others race to an open spot where a smiling student mentor is waiting for them.
When everyone is settled, Moran continues. "Now when I say 'go,' I want you to run and find a green noodle piece and bring it back to your circle," he says. "Ready, MUSTARD!" A few kids make a move toward the pile before realizing they've been tricked. "Ah, did I say 'go?'" Moran asks. "What did I say? I said 'mustard.' Okay, ready, GO!"
Builders and Bulldozers explores through movement
And so begins a recent session of Builders and Bulldozers, a group program offered by James Madison University's Occupational Therapy Clinical Education Services (OTCES) in conjunction with the department of kinesiology. The weekly session for children ages 2 to 5 promotes sensory exploration through movement. Participants engage in various activities such as pushing a mat along the floor to "bulldoze" shapes, completing an obstacle course and making crafts.
The atmosphere is open and encouraging, and each child is paired with a JMU kinesiology student or a pre-occupational therapy student to ensure their safety and to maximize attention to their individual needs.
OTCES group programs like Builders and Bulldozers are designed to address specific needs that aren't fully being met by other community programs. The clinic offers group programs for children of all ages, from a baby dance class to a sensory preschool group to a "Health Gardens, Healthy Girls!" curriculum that focuses on building self-esteem in adolescent girls.
Individual services offered by OTCES include one-on-one evaluations, interventions and consultations. In addition, the clinic uses Interactive Metronome training, which combines auditory guidance software with exercises to improve a child's attention and focus, motor coordination, language processing and self-regulation.
Filling a need for pediatric services in the Valley
OTCES grew out of a project that Elizabeth Richardson and two other OT graduate students worked on through the Venture Creations Class within the College of Business. Richardson, a JMU alumna, faculty member in the Master of Occupational Therapy program and licensed occupational therapist, practiced in private homes in the area for four years. During that time, she recognized the need for pediatric services in the central Shenandoah Valley. "Families were traveling as far as Charlottesville and Winchester," she says.
"She was excited about transitioning this concept from a plan on paper to reality," recalls Dr. Jeffrey Loveland, coordinator of the graduate occupational therapy program at JMU. With the help of Dr. Sharon Lovell, interim dean of the College of Health and Behavioral Studies, Richardson secured seed funding for OTCES. In addition, JMU's Institute for Innovation in Health and Human Services provides clinical support.
OTCES celebrated its two-year anniversary in November 2012 and continues to grow and add creative new programs. Its staff members — Richardson, clinic supervisor Julie Patrick Bonham and occupational therapist Cindy Colwell — are all JMU graduates.
Occupational therapy is concerned with things that "occupy" one's time — everyday activities such as self-care skills (feeding, bathing, dressing), fine motor skills (hand skills and dexterity), coordination, sensory integration and social skills. Since a child's primary occupation is play, it is often through play that occupational therapists help children develop and learn, Richardson says.
"We use play as a means and an end," says Richardson. "Lots of times the children don't even realize that they're working on something because they're having fun."
Children and their families come to OTCES by word of mouth and via referral from area physicians, K-12 schools and other clinics at JMU. Although autism and cerebral palsy are common disorders that may require pediatric occupational therapy, sometimes the diagnosis is less obvious, Richardson says. Increasingly, the clinic is serving children with severe anxiety and sensory integration issues. "We focus on their strengths and develop those skills they're less comfortable with," she says.
Ellen Blosser of Harrisonburg is watching her son Tyler, 2, play in the Sensory-Motor Gym, which features snuggle swings, a colored ball pit and a crawl tunnel. "He's very attached to me," Blosser says. "The more familiar he is with his mentor, the more comfortable he'll be and the more he'll flourish." Although Tyler is new to Builders and Bulldozers, he has been talking about the program at home, Blosser says, and he looks forward to the sessions. "He enjoys sitting down and learning things. And he's starting to grow. The more verbal children are, the more they can stand up for themselves and communicate their feelings."
Heather Benin's son Max, 2, is beaming with pride after finishing the bulldozer session. "When they were pushing the mat, you could tell that he wanted to hold on to me but he couldn't resist [participating]," the Bridgewater resident says. "He loves playing games and he loves following directions."
As its name implies, OTCES also provides a clinical setting in which students in the health sciences can complete internships, practica and fieldwork as well as conduct research and assessment.
For kinesiology students and pre-occupational therapy students, the Builders and Bulldozers collaboration underscores the importance of helping children of all abilities achieve a "sensory diet where they're calm, they're focused and they're in tune with what their body is doing," Moran says.
Colwell, who also serves as the clinic's volunteer coordinator, is excited to help OTCES provide a valuable service to the community. "We want to reach out, we want to make a difference and make ourselves known and to have other people come and join us." 
###
By Jim Heffernan ('96), JMU Public Affairs
April 8, 2013