News
Speaker: Dolley Madison created role of first lady
---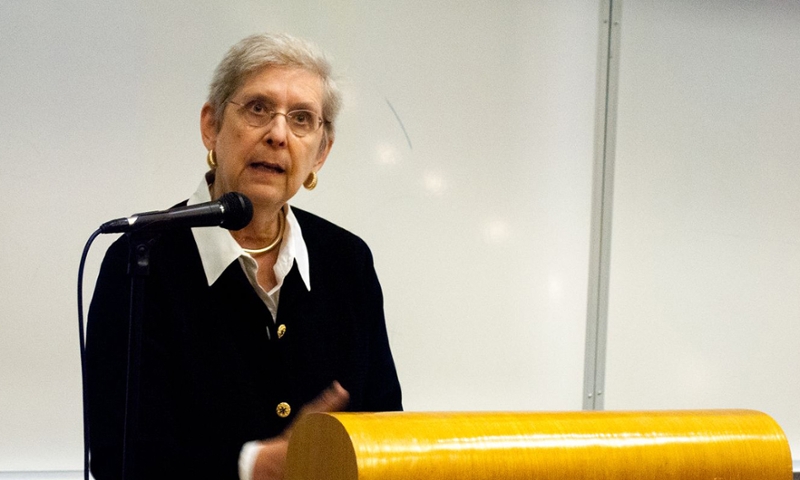 Dolley Madison wasn't the first first lady of American politics, but her charm, her support of her husband and her ability to bring people together in an era of acrimony and upheaval in Washington came to exemplify the role for more than a century and made her a merchandising icon, according to Holly Shulman, director of the Dolley Madison Digital Edition at the University of Virginia.
Shulman's lecture, "Dolley Madison and the Creation of the First Lady," drew more than 100 people Tuesday night as part of James Madison University's weeklong presidential inauguration festivities.
"She certainly held [Washington] society in her hand," Shulman said.
A widow who stole the heart of a reticent Virginia statesman named James Madison and followed him to the nation's capital for his tenure as secretary of state and later as the country's fourth president, Dolley Madison is perhaps best known as "the hostess who served ice cream and saved George Washington's portrait" during British troops' burning of the White House in 1814, Shulman said.
Indeed, while her husband was busy developing into the role of a wartime president, Dolley Madison played the part of the ceremonial hostess to perfection, Shulman said. Unlike Philadelphia, the cosmopolitan former seat of American government, Washington, D.C. — still a largely undeveloped and impoverished city in the early years of the republic — offered Dolley "a blank slate" on which to leave her mark, one free of the pressure of having to compete with high society, Shulman said. In the new capital city, she said, the Madisons could "easily outrank, out-dress and out-party any American."
Dolley made a point to dress for social events in a republican, rather than monarchical, style — velvet dresses and pearls as opposed to the European women's fashion of satin and diamonds — and with the help of the architect Benjamin Latrobe, she decorated the public spaces of the White House in a manner "fine enough for European dignitaries, but plain enough for a good American harvest table," Shulman said.
Her parties — known as "Wednesday night squeezes" — were welcome diversions from the tedium of public service, and she used the events to help ease the political tensions of the day, Shulman said. This was particularly important during the Madison administration, she said, as two emerging factions — Republicans and Federalists — wrestled for control of the new government.
Despite her many charms, Dolley Madison was not universally loved during her husband's tenure as president, Shulman said, and she faced many of the same societal limitations as other women of her day.
"All first ladies become lightning rods for criticism of their husbands," she said. "Dolley was criticized, but she did manage to hold this society together and, in doing so, probably helped James Madison as a leader."
In her lifetime, Dolley became the symbol of the American hostess, and her likeness, which grew along with the development of commercial packaging and advertising, graced an array of products, from ice cream to jewelry, well into the mid-20th century. Even long after her death, Shulman said, she has remained "an icon of hospitality and of women's leadership by virtue of her tact, her generosity, her wisdom and her charm."
Dr. Anthony Eksterowicz, professor emeritus of political science at JMU and co-editor of the 2003 book "The Presidential Companion: Readings On the First Ladies," said Dolley Madison had a penchant for what scholars have termed "parlor politics." "She took politics out of the street, where it was practiced vitriolically, and brought it into the parlor, where it gained a measure of sensibility," he said.
JMU's own "first lady," Mary Ann Alger, who was in attendance Tuesday, said she is currently reading several books on Dolley Madison and has drawn inspiration from her legacy.
"She was very cutting edge for her day," Alger said. "Getting people together and connecting people was a real strength of hers. I think I would have liked her."
# # #
By Jim Heffernan ('96)
March 13, 2013
Published: Wednesday, March 13, 2013
Last Updated: Thursday, November 10, 2016