News
Chi Sigma Iota chapter recognized for suicide awareness walk
---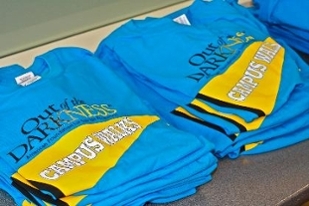 The first Out of the Darkness Campus Walk at Madison was held in April 2011. 
James Madison University's Alpha Sigma Chapter of Chi Sigma Iota, the international honor society for the counseling profession, is the recipient of the 2012-13 Outstanding Chapter Individual Program Award. The honor recognizes the exceptional growth and achievement of JMU's annual Out of the Darkness Campus Walk, which promotes suicide awareness and raises money for prevention efforts.
Lisa Ellison, a graduate of JMU's counseling programs, coordinated the first Out of the Darkness Campus Walk at Madison in April 2011. Last spring, despite blustery conditions, the walk drew over 300 participants, some from as far away as Alabama, and raised more than $16,000 for the American Foundation for Suicide Prevention.
The event, held in partnership with the Central Valley Counselors Association and involving volunteers from local suicide support groups and mental health agencies as well as JMU student organizations, also provides information and education regarding mental health services, signs and risk factors for suicide, and activities to help those at risk or who are bereaved.
"Part of our responsibility as counselors is to support and advocate for others," said Janice Lewis, president of the Alpha Sigma Chapter at JMU. "The Out of the Darkness walk has been a way to do that while promoting resilience."
This year's event will be held on April 21, with registration beginning at 11 a.m. followed by a ceremony at noon. The three-mile walk will begin at the Festival Conference and Student Center. Registration and additional information is available at www.campuswalks.org and via the Alpha Sigma Chapter's Facebook page.
Dr. Deborah Sturm, assistant professor of graduate psychology at JMU and faculty advisor to the Alpha Sigma Chapter, said the event provides an opportunity to support surviving family members and friends who experience a complicated and often isolated bereavement process. "Promoting an event to bring them 'out of the darkness' called for such a careful balance, always mindful of being respectful without being too somber and infusing hope without insincere hype," she said.
Dr. Lennis Echterling, professor and director of counseling programs at JMU, credits the event's success to "a wonderful integration of dedication, advocacy, clinical sensitivity, scholarship and organizational effectiveness."
Representatives of the JMU Alpha Sigma Chapter will accept the award from Chi Sigma Iota during the American Counseling Association Annual Convention in Cincinnati on March 22. 
###
Feb. 18, 2013