Nation and World
Students' project chosen to help fight human trafficking
---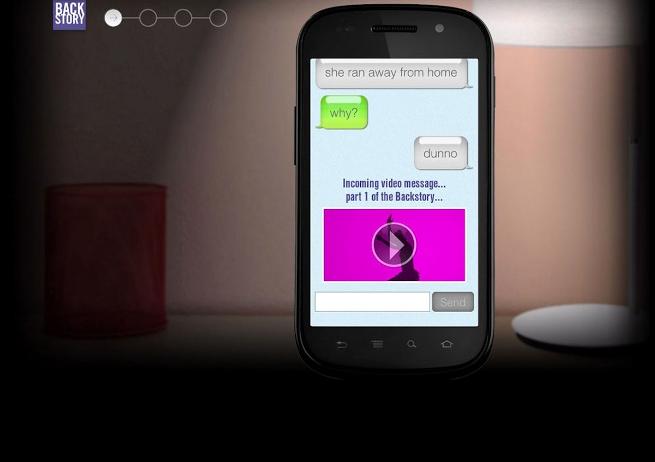 You may have encountered them online — personal ads offering sex, money for school, or free rent in exchange for housekeeping duties. But what you may not know is that behind many of these provocative posts are horrifying tales of oppression, intimidation and abuse.
Human trafficking is one of the fastest-growing criminal enterprises in the world. Incidents were reported in all 50 states in the U.S. last year, according to the National Human Trafficking Resource Center. Victims include children induced into the sex trade, adults who are coerced into performing commercial sex acts, domestic workers held against their will and farmhands forced to labor for little or no pay.
In the spring of 2012, four students in James Madison University's School of Media Arts and Design set out to harness the power of digital storytelling to combat human trafficking. The project, which originated in SMAD instructor Paige Normand's Writing for New Media class, caught the eye of MTV's college-oriented network, mtvU, which was sponsoring a nationwide contest to develop tools to raise awareness of the issue and inspire young people to take action.
Normand said the campaign was perfectly suited to the course, which is required within SMAD's concentration in converged media — the delivery of content via multiple formats including text, images, audio, video and interactive websites.
"I had designed the course so that it would culminate with a concept design that the students would produce," she said. When Normand received an email blast from mtvU about a month into the semester, she encouraged her students to take part.
Seniors Kristen Hotz and Danielle McLean and juniors Jasmine Jones and Liz Ramirez expressed an interest in working together on the project. They researched human trafficking and safe harbor laws, created a narrative based on a female survivor's testimony for mtvU's "Against Our Will Campaign," and developed an interactive web module to help tell the victim's story.
"We'd been studying innovative ways to spread awareness and create interactive campaigns, so that was a good basis for us to brainstorm ideas," McLean said.
"When we started, I didn't know much about human trafficking," Hotz said. "Then we started researching it and it made me realize, wow, this is a real issue and it's not just going on in other countries. It's happening here."
The students' concept design involved a series of interactive videos that must be unlocked to uncover the victim's backstory. Users become central characters in the storyline, answering a scripted text message or Facebook chat from a friend about someone they know and suspect may be in trouble. As the story unfolds, participants are given the option to connect to their own Facebook accounts to see a more personalized storyline and to share the backstory with their friends via social media.
"We wanted people to connect with the issue on an emotional level because this is serious and it's personal and it's going on in our backyards," Jones said.
The group also wanted to help dispel some of the myths surrounding human trafficking. "People think it only happens through being abducted," Ramirez said. "We found out through our research that it can also be psychological coercion, and we thought that was important to get out there."
The interactive piece was important, the students said, not only because it fit mtvU's target audience, but also because it underscores the reality of human trafficking.
"It's easy when you hear the statistics to become numb to that and not be able to relate to it," McLean said. "The interactive element makes it a lot more real for people and easier to empathize and put yourself in that position."
Last summer, the students learned that their concept design had been selected as a finalist. Then, in late August, word came that the network had chosen it for development.
MtvU's "The Backstory," which launched in late January as part of National Slavery and Human Trafficking Awareness Month, includes six videos in two different packages and adds the power of interpretive dance to the storytelling, with performances by the troupe Ailey II and narration by rapper Talib Kweli. Those viewers who are moved by the experience are provided with simple steps to take action, including rallying for laws that support the rights of trafficking survivors.
The JMU students were not involved in the production, but they say they were pleased with the results. "We didn't have the tools, obviously, to make it what it is [now]," McLean said. "I think it's better in a lot of ways that we could have imagined."
Still, Normand said the students' mark on the project is evident. In fact, the venture was so successful that Normand has restructured the Writing for New Media course to include more of a focus on ways students can use media to make an impact on their communities and the world.
For their contribution to "The Backstory," the students received $10,000. The group is considering donating a portion of the money to anti-human trafficking organizations.
McLean said the experience has led her to want to pursue a career in advocacy, while Ramirez, who is also majoring in sociology, plans to do her honors thesis on human trafficking. 
###
By James Heffernan ('96), JMU Public Affairs
Feb. 26, 2013