News
His courage will not skip this generation
---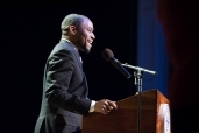 A very impressed Dr. Marc Lamont Hill, keynote speaker at James Madison University's formal program to celebrate Martin Luther King Jr., started his address by saying, "This is the most elaborate King celebration I've been a part of and I've been a part of many."  He thanked the university for taking King's "moment of memorial" seriously and recognized the students, faculty and community members who came out to celebrate his personal hero.  The formal program is sponsored by the Center for Multicultural Student Services and a committee of students planned the evening.  The theme for this year's MLK celebration week was "His Courage Will Not Skip This Generation."
The formal program, a highlight of the 26th annual MLK celebration week at JMU, honored King through song, drama, community recognition and Hill's keynote address.  For Lamitra Barnes, a junior theater major from Richmond, Va., who participated in the ceremony, the formal program was a chance to share her passion for King through her talent of acting.   "With his voice and his vision we can revolutionize our world and we can make a change," said Barnes to the audience.   
JMU President Jonathan Alger participated in his first MLK celebration week and offered remarks at the formal program.  He emphasized the need for civil discourse and access to education.  "Dr. King taught us that with education comes responsibility," said Alger.  "The mere accumulation of knowledge is not enough and should not be our goal."  Alger then quoted King,  "We must remember that intelligence is not enough.  Intelligence plus character – that is the goal of true education."
The Contemporary Gospel Singers performed and students dramatized a scenario depicting interracial dating.  Senior Tatiana Torruella introduced the elementary, middle and high-school winners of the community essay contest that asked students to help King write a speech on bullying.  Diane Strawbridge, director of the Centennial Scholars program at JMU, was presented the community service award by Kenneth Gilliam, president of the Xi Delta chapter of Alpha Phi Alpha Fraternity, Inc. 
Hill's passionate keynote address challenged the crowd to make connections from King's life to the present time.  Hill emphasized five points: listen carefully, remember truthfully, discern wisely, act bravely and hope relentlessly.  Speaking directly to the college students present Hill said that King understood the value and energy that come from young people.  "If we are going to have a social movement, if we are going to articulate a social vision and then perform it in public we need young people," said Hill.  "If we are going to have a coherent social movement in this country of any sort it must include young people."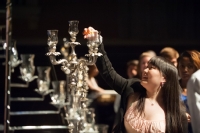 The evening ended with a candlelighting ceremony led by Alger followed by a procession of community members, JMU administrators, faculty and students representing departments and organizations from around campus.  Student body President Matthew Klein lit a candle.  "In SGA's role on campus to serve and represent the students of JMU, I can only hope that we function and strive for the same principles of Dr. Martin Luther King Jr. As we come to JMU to enrich our education, Dr. King also stressed its coupling with an individual's character in order to truly create impactful people."
Barnes said she was moved by the evening's events.  "Especially seeing how MLK's vision is still alive and continues to grow and sharing this with JMU and the Harrisonburg community," she said.  "If it weren't for Dr. King I wouldn't even be here, I wouldn't be able to do what I do or be at such a diverse school." 
###
January 22, 2013
Published: Tuesday, January 22, 2013
Last Updated: Thursday, October 20, 2016