JMU in the Community
Breaking Tradition
---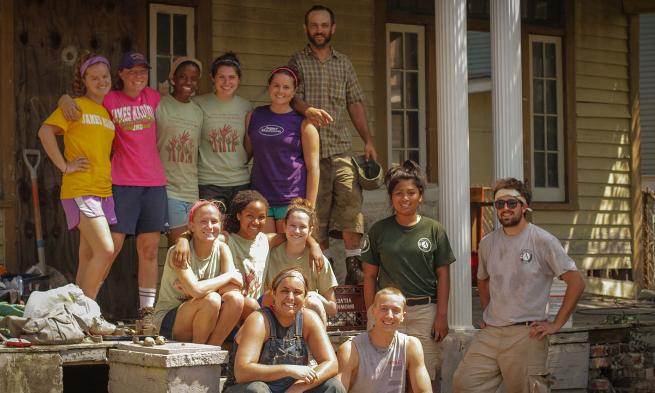 When asked why she would give up her Thanksgiving break to travel hours by car, spend time serving strangers and live simply, senior Carson Rader-Bell doesn't hesitate, "Why wouldn't I? I will miss my family, but this holiday is as much about giving as it is about being thankful for what we have," she said.  Rader-Bell and 26 other James Madison University students are foregoing their traditional Thanksgiving break to participate in Alternative Thanksgiving Break, part of JMU's Alternative Break Program. 
This group of students will be looking forward to a week of long travel, hard work and most importantly rewarding experiences of helping others.  The Alternative Thanksgiving breaks planned by student leaders are in Louisiana, Massachusetts and Georgia during JMU's Nov. 17–25 break.  Instead of returning home to their families and celebrating over turkey and mashed potatoes, these students will help mentor at-risk children, support and listen to America's veterans and spend time with patients living with HIV/AIDS.
"We are blessed to have opportunities like these to go out into a larger community and serve while representing the university we call home," said Rader-Bell.  "Taking the time and making the efforts to improve the life of others can cause a reaction, and hopefully in the long run inspire others to do the same."
JMU'S award-winning Alternative Break Program provides learning opportunities for students outside of the classroom where they focus on social issues by interacting with a local nonprofit, living simply and reflecting on the critical issues faced by the people they serve.  Trips occur at Thanksgiving, spring break, in May and on various weekends throughout the year.
The 2012 Alternative Thanksgiving Break trips:
Medici Project, Atlanta, Ga.
The Medici Project partners with numerous agencies in the city of Atlanta to connect student volunteers to at-risk urban youth.  This group will be working specifically with an agency called Safehouse that supports and works with at-risk children such as teenage mothers or children of incarcerated parents.  The students will have the opportunity to work on a variety of projects and programs catered to the needs of the agency.  At the end of the week, the students will put together a Thanksgiving dinner for those who need it most.
New England Center for Homeless Veterans, Boston, Mass.
NECHV is dedicated to providing assistance to veterans who are facing homelessness.  While in Boston at NECHV, the JMU students will be working in their store, assisting in the kitchen and will be interacting and socializing with the veterans.  Stories will be shared as well as learning of the strength and hardships of being a veteran.
Project Lazarus, New Orleans, La.
Project Lazarus provides assisted living services to people with AIDS who are unable to live independently or do not have family that can take care of them.  This residential facility focuses on enhancing its residents' quality of life by nurturing the mind, body and spirit in a homelike environment.  As a group, the JMU students will have the opportunity to interact and get to know the residents through cooking meals, attending health and wellness classes with them, tending to the garden and much more.
The JMU Alternative Break Program is the Break Away National Program of the Year for 2010 in recognition of the university's commitment to active citizenship. The program earned the same award in 1999 from Break Away, a national nonprofit organization that supports the development of quality alternative break programs at colleges and other nonprofit organizations.
###