News
2012 Open Doors report
---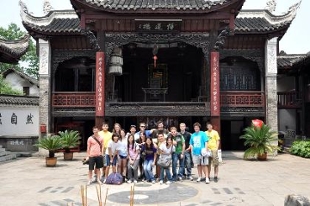 James Madison University is one of the top master's-level institutions in the country in participation in study abroad programs, according to a report released this week by the Institute of International Education.
The Open Doors 2012 report, which covers the 2010-11 academic year, ranked JMU second nationally among comparable universities in the total number of students who studied abroad (1,101) and second in participation in short-term study abroad programs (816), which are generally offered during the summer.
Additionally, JMU was No. 12 in semester programs and No. 15 in long-term programs, which are defined as lasting a full academic year or longer.
The university's rankings were consistent with 2009-10, when JMU was second in total participation, first in short-term programs, 11th in semester programs and 12th in long-term programs.
"I am delighted that the most recent edition of the Institute of International Education's Open Doors has once again confirmed JMU's outstanding success in study abroad," said Dr. Lee Sternberger, executive director of the Office of International Programs at JMU. "We are fortunate to have an energetic and forward-looking staff, creative and collegial faculty leaders, and a university administration actively supporting comprehensive internationalization — all committed to offering a great variety of programs for JMU's students seeking a broader outlook on the world."
JMU was one of only three Virginia universities included in the most recent study abroad rankings. The University of Virginia was 26th among doctorate-level institutions in total participation, while the University of Richmond was 10th among baccalaureate institutions.
Although the United Kingdom, Italy, Spain and France remain the most popular study destinations for American students, the report found increasing interest in programs outside of Europe, such as Brazil, China, Costa Rica, India and South Korea.
From its inaugural semester in London in 1979, JMU's study abroad programs have grown and flourished. Today JMU students enjoy literally a world of opportunities for international study, including semester programs in Antwerp, Belgium; Salamanca, Spain; Florence, Italy; Beijing; and London; graduate programs in Florence and Malta; and more than 60 short-term programs spanning the globe.
For more information on JMU study abroad programs, click here. 
###