News
Get Involved, Make YOUR Mark
---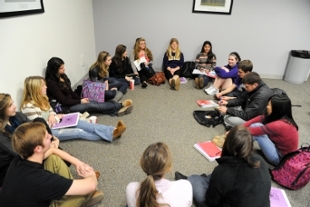 At James Madison University, students fulfill the "Be the Change" motto through involvement and leadership every single day. With over 300 active organizations at JMU, it can be overwhelming for new students to find their niche.  That is why the Office of Student Activities and Involvement created Make Your Mark on Madison.
MYMOM is an elite semester-long leadership program offered in the fall that is tailored to help freshmen and sophomores tap into their interests and seek avenues of leadership. Coined as a "springboard into authentic involvement at JMU," MYMOM provides student applicants with insight into values, diversity and effective communication necessary for positive involvement and close interaction with upperclassmen.
MYMOM meets Mondays from 7­ to 9 p.m.  The 150 students who are chosen to participate are divided into small groups led by a trained upperclass "counselor." During the first hour a guest speaker presents on the topic of the week and incorporates interactive activities.  The second hour is devoted to their small group where the counselors facilitate group discussion and answer questions.
"This program allows students to figure out who they really are and help them find their fit on campus," said MYMOM co-director Patrick O'Brien. "We focus on 'hidden' topics that students may not discuss in detail with their hall mates or classmates such as personal values, leadership styles and how others perceive you."
A life-changing experience
While O'Brien and fellow co-director Rachel Lewis joined MYMOM at different points in their JMU careers, both agree that it is a life-changing program that helps to boost confidence, fosters a tightly-knit environment and facilitates personal growth.
"We provide guidance and structure for students through special topics and discussions each week, but we leave it up to them to discover goals on their own," said Lewis. "We want to show students that they can do anything they put their minds to and encourage them to take advantage of the many leadership opportunities on campus."
Throughout the program, students begin to think more critically and transform into more open-minded individuals. Over time students learn how to effectively communicate and break out of their shell, essential elements of a strong leader. MYMOM exposes students to different leadership styles, emphasizing the idea that each style is beneficial and important.
Evolving into a leader
Through this early interaction with the Office of Student Activities and Involvement, students are able to view themselves and their involvement at JMU from a different perspective and embody the elements of a true leader.
"Above all, MYMOM has given me a level of confidence in myself and as a leader that I wouldn't have achieved if I hadn't participated," said junior Michael Roche. "It made me more aware of the people around me and really dig deeper within my friendships. Overall, it made me take a step back and assess my life and my relationships from a bigger perspective."
For sophomore Maureen Greim, MYMOM has helped her to establish lasting bonds and turn difficult situations into enriching learning experiences.
"I have a support system here at JMU that's full of people who want me to succeed and to somehow make my mark," said Greim. "I have learned how to think outside of the box, look past first impressions, how to make good first impressions, how to handle difficult situations and even revealed things about myself that I didn't even know. It taught me not frown upon my flaws, but to accept them and to be grateful for the skills and traits I do have, using them to make me a great leader."
Making lasting impressions
Although the students only meet formally once a week interactions outside of MYMOM sessions are highly encouraged. The sincere relationships formed within the program are strong, fostering a familiar and comfortable connection.  A stepping stone, MYMOM provides students a strong foundation to make the most out of their JMU experience and prepares them for a lifetime of involvement.
"The people you meet through MYMOM are like your family here at JMU," said Lewis. "You can be yourself without worrying about being judged."
By Lisl Magboo ('12), Public Affairs
###
Applications are now being accepted from freshman and sophomore students.  Application deadline is Sept. 10. 
For more information and to download the application, visit MYMOM.
Published: Thursday, September 6, 2012
Last Updated: Thursday, October 20, 2016