Former JMU Journalist Wins Pulitzer
---
Former JMU Journalist Wins Pulitzer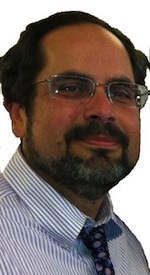 Jeff Gammage (Photo credit: Annette John-Hall)
Reporter and James Madison University alumnus Jeff Gammage is part of the team that won the Pulitzer Prize for public service, which was awarded to The Philadelphia Inquirer April 16.
Gammage, who graduated in 1982, contributed to the newspaper's award-winning "Assault on Learning" series, a yearlong investigation into violence in Philadelphia public schools. Gammage investigated South Philadelphia High, one of the city's most violent schools, for the seven-part series that ran from March 27 through April 3, 2011. 
A former news editor of The Breeze, JMU's student newspaper, Gammage joined the Inquirer reporting staff in 1987.The Pulitzer Prize for public service is awarded to a newspaper, rather than an individual.
# # #
April 24, 2012