Arun Gandhi Extends Grandfather's Message
---
Arun Gandhi Extends Grandfather's Message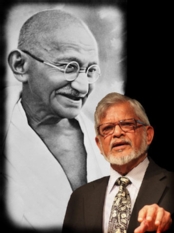 Arun Gandhi, the grandson of spiritual leader Mahatma Gandhi will visit James Madison University April 19 to present "Lessons Learned from My Grandfather: Nonviolence in a Violent World."
Gandhi's presentation, which is open to the public free of charge, will begin at 7:30 p.m. in Wilson Hall Auditorium.
Arun Gandhi, himself a proponent of nonviolence, is the fifth grandson of India's legendary leader, Mohandas K. "Mahatma" Gandhi. Born in 1934 in Durban, South Africa, his early life was dominated by discriminatory apartheid laws of the country, where he was assailed by white and black South Africans for being the "other."
Gandhi sought rightfulness through retaliation, but learned from his parents and grandparents that justice does not mean revenge. His grandfather taught him to understand nonviolence through understanding violence. "If we know how much passive violence we perpetrate against one another we will understand why there is so much physical violence plaguing societies and the world," Gandhi said.
After leading successful projects for economic and social reform in India, Arun Gandhi came to the United States in 1987 to complete research for a comparative study on racism. In 1991, he and his late wife, Sunanda, founded the M.K. Gandhi Institute for Nonviolence, which is now housed at the University of Rochester in New York.
"Arun Gandhi's activism and promotion of nonviolence epitomizes the mission and ideals of the Mahatma Gandhi Center for Global Nonviolence, which is headquartered at JMU," said Gary S. Race, director of the center. "As part of the university's dedication to educating enlightened citizens who have broad cultural awareness, we established the Gandhi Center in 2005 to promote justice and nonviolence through education, scholarship and engagement."
Free parking will be available in the Warsaw Avenue Parking Deck. Handicap parking is available in Lot A adjacent to Wilson Hall.For more information, contact the Gandhi Center at (540) 568-4060.
# # #
April 16, 2012