News
President-elect Visits JMU
---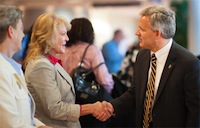 President-elect Jonathan Alger
meets with faculty and staff.
Jonathan R. Alger met with James Madison University faculty, staff and student leaders during a two-day visit to campus April 5-6, his first official visit since being named president-elect.
In November, the JMU Board of Visitors selected Alger, currently senior vice president and general counsel at Rutgers, The State University of New Jersey, to succeed Dr. Linwood H. Rose as Madison's sixth president.
During a faculty reception Thursday afternoon, Alger pledged his support for teaching and scholarship at JMU, saying educators play a pivotal role in the success of an institution of higher learning. "One of the things we hear consistently from students is how important the faculty has been in their lives," Alger said, "whether it's a conversation with you or a research opportunity or a particular class that they took that opened their eyes to new opportunities and impacted their lives in a very profound way."
"I take this role very seriously, and I know how hard all of you work and that sometimes that's not fully appreciated, especially by those outside higher education," Alger told the group. "I very much want to be your champion in all of those different capacities and to be a spokesperson for the importance of your work and the value of what you do."
Faculty in attendance welcomed the president-elect and looked forward to working with him.
"I'm intrigued by his background," said Dr. Robert Kolvoord, professor of integrated science and technology and interim director of the School of Engineering. "He's coming from a little different direction than we've had before. Personally he seems very approachable and I found him to be straight-forward and direct, both a good listener and someone who knows his mind."
"He really wants to be here, he's excited to be here," said Dr. Roger Soenksen, professor in the School of Media Arts and Design and faculty adviser for JMU athletics. "He sees JMU as not only having accomplished a lot, but as having great potential for the future. He's going to bring tremendous energy. One of the things I really like is that he's spending time meeting people and understanding and embracing the culture. I think that's a sound approach."
Dr. Michael Galgano, professor and head of the history department, said he is encouraged by Alger's willingness to listen and his advocacy for the liberal arts. "He understands from his own background what a liberal arts education is and what it's capable of doing."
At a student reception Thursday evening, Alger was introduced by Student Government Association President Patrick Watral, who joked that the crowd had dressed up for the occasion. "I thought this was how JMU students always dressed," Alger replied. "It means a lot that you all came out," he said. "It reflects that this is an academic institution, but it is also a great community."
Junior Matthew Wisniewski, president of Student Ambassadors at JMU, was among the Dukes who met with Alger earlier in the day. "Mr. Alger has a good ability to listen, which I think is important for a leader," he said. "We talked about what we loved about JMU and what we'd improve. It was a good, constructive conversation."
Alger also noted the many student clubs and organizations on campus, and he encouraged seniors in attendance to stay engaged with JMU after graduation and to get involved in their local alumni associations. The JMU a cappella group Low Key provided musical entertainment, and Alger, accompanied by his wife Mary Ann and daughter Eleanor, ended the reception by asking everyone in the room to join them in singing the JMU fight song.
On Friday morning, the Algers attended a final reception in the lower level of the Festival Conference and Student Center, where JMU staff members waited patiently to shake hands and share stories with the family.
"We understand and recognize the importance of the role of the staff at a great university like James Madison," Alger told them. "It's very obvious when you set foot on this campus and you see the beautiful facilities and how well run and well managed everything is. … that you take pride in your work and pride in this university."
Alger will officially begin his duties as president on July 1.
# # #