News
Breaking Down Barriers
---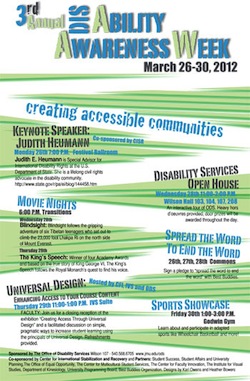 Kari Owens loves her job. A peer mentor in James Madison University's Office of Disability Services, she serves eligible students with mobility, orthopedic, hearing, visual, speech and learning disabilities. The job allows her to unite her passion for graphic design with her deep connection to having a disability. "I design for the office as a part of my position here but I also interact with other students who have disabilities, and through having a disability myself, I am able to understand on a deeper level," said Owens, a junior from Clifton, Va.
Owens has been putting much of her recent efforts into Disability Awareness Week, March 26–30. "Disability Awareness Week last year is what started conversations for me, which then led to the opening of many doors," said Owens. "Disability Awareness Week is a reminder that whether or not someone has a disability, we all most likely know somebody who does and it is something that connects each and every one of us and is important to talk about."
Special Advisor for International Disability Rights at the U.S. Department of State Judith Heumann will give the keynote address on March 26, sponsored by ODS and the Center for International Stabilization and Recovery. An influential leader and advocate for the disabled community, Heumann played a leading role in extending the civil rights movement through her work on the Americans with Disabilities Act.
Ken Rutherford, director of CISR, has worked with Heumann and says she has been at the heart of the milestones that have marked the progress of disability rights in America over the past half century. "She has lived a life of innovation, determination, compassion and advocacy," said Rutherford. "Her work has changed what disability means not only in the United States, but also around the world."
Other events during the week include movie nights, the ODS open house, a faculty workshop and an interactive adaptive sports showcase.
In addition to the preparation for DAW, ODS has implemented new programs this year. It is a main priority to keep up with new demands as they arise on campus, and ODS is constantly looking for ways to enhance the services offered to students with disabilities.
One of the newest services ODS provides is the "Report Barriers" link located at the top of their website. Continuing JMU's commitment to equal access and the civil rights of people with disabilities, ODS Director Valerie Schoolcraft sees this service as an important step in breaking down barriers for JMU community members and visitors to the univeristy. Schoolcraft lists problems with doors, elevators or labs as examples of what she expects to be reported. "This takes the hassle out of reporting a barrier. You don't have to figure out the office hours, who the building coordinator is or the correct phone number," said Schoolcraft. "You submit the 'Report Barriers' form and we'll find the right people to fix the problem."
ODS also expanded their note-taking services in the last year. The addition of a new note taking and technology assistant, Judy Onestak, has bolstered the service considerably. Since spring 2011, Onestak has coordinated with professors and students in over 100 different classes across campus, facilitating the arrangement of anonymous note-taking volunteers. "As of spring 2012, we have seen the number of students who utilize the note-taking service jump from 12 to 15 students to 85 to 100," said Onestak. "We want students to know that we are here to help and encourage them to take advantage of what we have to offer."
Students, faculty and community members are encouraged to take part in Disability Awareness Week March 26–30.
March 26: Keynote Speaker Judith Heumann, 7 p.m., Ballroom, Festival Conference and Student Center: Judith E. Heumann is an internationally recognized leader in the disability community and a lifelong civil rights advocate for disadvantaged people. She has been appointed Special Advisor for International Disability Rights at the U.S. Department of State. An American Sign Language Interpreter, CART report and FM devices will be available for the deaf and hard of hearing community.
March 26, 27, 28: Best Buddies Spread the Word to End the Word, various times, The Commons: Sign a pledge to "spread the word to end the word" with Best Buddies to help stop the derogatory use of the "R" word.
March 28: ODS Open House, 11 a.m.¬–2 p.m., Rooms 103, 104, 107 and 208, Wilson Hall: An interactive tour showing how ODS provides access and accommodations for JMU students.
March 28: Movie Night, "Blindsight," 6 p.m., Transitions ,Warren Hall: Featuring Erik Weihenmayer from Team No Limits on ABC's "Expedition Impossible," this film is set against the breathtaking backdrop of the Himalayas.
March 29: Movie Night, "The King's Speech," 6 p.m., Transitions, Warren Hall: This Academy Award-winning film is based on the true story of King George VI. "The King's Speech" follows the royal monarch's quest to find his voice.
March 29: Faculty Workshop, Universal Design: Enhancing Access To Your Course Content, 11 a.m.–1 p.m., 2nd floor , IVS Suite/Roop Hall: Faculty are invited to join members of the Center For Faculty Innovation, Office of Disability Services and Institute for Visual Studies for a closing reception for "Creating Access Through Universal Design." Universal design is a method for creating environments that are accessible to the largest number of individuals possible. The reception will be followed by a facilitated discussion on simple and pragmatic ways to increase student learning and create more equitable and socially just learning environments.
March 30: Interactive Adaptive Sports Showcase, 11 a.m.–2 p.m., Godwin Hall, Sinclair Gymnasium: Back by popular demand and thanks to Tom Moran in the Department of Kinesiology, the Disability Sports Showcase is an event where students can learn about and participate in adapted sports. A few feature events will include wheelchair basketball, beep baseball, goal ball and more.
Related Links:  
###
By Lisl Magboo ('12) and Paula Polglase ('92, '96M)
March 23, 2012
Published: Monday, December 20, 2010
Last Updated: Thursday, November 29, 2018