News
Student's Research Challenges E-readers' Claim
---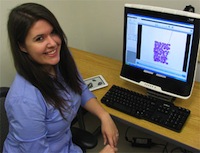 It's just like reading a book — that's what companies like Amazon and Barnes & Noble want consumers to believe about their respective e-readers. The handheld devices, with their reader-friendly interfaces and ready access to entire libraries of digital books and periodicals, have taken the literary world by storm and are being touted as a more cost-effective, less cumbersome alternative to standard classroom textbooks.
An honors student at James Madison University, Leah Hartman Densmore was among those drawn to the technology from the outset. "(Barnes & Noble's) Nook had just come out. I love reading. I really wanted one."
The bookworm in Densmore, a fifth-year senior majoring in psychology with a double minor in biology and dance, wanted to believe the advertising hype, but the researcher in her was skeptical. "The whole point is that technology is changing, and we need to figure out how it's affecting us and how we're actually using it."
Still, when it came time for Densmore to explore topics for her honor's thesis, an e-reader study was at the bottom of her list. But her thesis advisor, JMU psychology professor Dr. Jeffrey Andre, whose own research interests include visual perception and cartography, thought the study held promise, especially given the lack of research on the new E-Ink technology used in such devices. Besides, Densmore could take advantage of the psychology department's eye-tracking software, which measures, among other things, saccades –— the quick, jerky movements of the eye as we read.
Densmore initially set out to study eye strain and fatigue with e-readers, but soon found that the experimental procedure would have been too long and unmanageable, so she narrowed her focus to the effects of the E-Ink technology on eye movements and reading time. About 120 participants, mostly JMU freshmen, were tested over five weeks in the fall. Each was assigned one of three media from which to read: paper, a computer screen or a Nook. Densmore went to great lengths to create an identical reading experience across the various media, matching fonts, text size and page dimensions. "The paper (copy) actually ended up being the most difficult," she says, as the pages had to be specially bound and pennies placed on the back of them so that they would turn as easily as electronic pages.
For the text, Densmore chose Chapter 2 of Oscar Wilde's novel "The Picture of Dorian Gray." "We wanted something that was a classic, but not extremely well known," she says, adding that she chose Chapter 2 because it reads like a short story. After being given a visual acuity test, participants were asked to read for 18 minutes, with pages 3 and 20 from each medium chosen as target pages for comparison. For each page, Densmore recorded the beginning page time, the time spent reading the page and saccadic eye movements. Following the allotted reading time, the participants completed a demographic survey. In all, each session lasted 30-45 minutes.
Not all the trials were a success. The eye tracker showed some of the participants' eye movements in the margins of the page. A power failure rendered one of the tests unusable. One subject fell asleep. "It's the little things that were such an issue," Densmore says. "The process is time-consuming, it's stressful, and when it's not going the way you want it to, it can be so frustrating."
But over time Densmore made a significant discovery: While the number of saccades wasn't necessarily different, it took subjects on average between five and seven seconds longer per page to read on the Nook than on the paper copy. Over the course of a novel or a chapter in a textbook, the difference could really add up. "When I saw the results, I was shocked," she says. "I thought the Nook would be a faster read."
Densmore is unsure as to why it took subjects longer to read with the Nook, but the finding was enough for her to question the current push to get e-textbooks in the classroom across all grade levels. "The technology is great. It's cheaper and it helps save trees. And there are kids walking around with backpacks full of books, which has led to back problems. But is it worth the (investment) … if it's going to take students longer to read? Not to mention we're still unsure about (how) comprehension (is affected)."
Between the time spent researching the topic, preparing the lab, learning the eye-tracker software, testing the subjects and analyzing the results, Densmore logged more than 1,000 hours on the project. She successfully defended her thesis in December, and having incorporated some of the faculty panel members' suggestions in her paper, she will present her findings on March 2 at the Eastern Psychological Association conference in Pittsburgh. A fellow undergraduate student is continuing her work this semester, and Densmore and Andre are considering publishing options.
"I couldn't have done this without Jeff," Densmore says. "He just has a way of challenging you and encouraging you that makes you want to work hard."
"I have been incredibly lucky to work with amazing students," says Andre, who has served as a faculty advisor on undergraduate honors theses since 2004. "All of them are of the quality that they can be presented at professional conferences. That's my standard, and Leah has reached that bar."
Related links:
# # #