JMU Puts Recycling/Waste Reduction Practices to the Test
---
JMU Puts Recycling/Waste Reduction Practices to the Test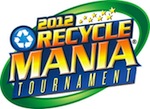 JMU students, faculty and staff can help compete against other universities in RecycleMania 2012 by responsibly disposing of food and recyclable material.
RecycleMania is a friendly competition among college and university reduction programs that started Sunday, Feb. 5 and will end on March 31.
Over the eight-week period, participating colleges and universities report the amount of recycling and trash collected each week and are ranked in various categories, including the amount recycled. JMU also will report the amount of food that is composted. Compost is used as fertilizer and reduces the amount of trash sent to the landfill, which will boost JMU's effort in that category.
Festival patrons can help with the composting effort by placing waste food and other compostable products in specially marked bins. Many of the packaging materials used in the Festival are compostable. Instructions about what can be composted are posted near the bins. Composting in East Campus Dining Hall and Gibbons Hall (D-Hall) is being handled by food service workers.
JMU has also begun recycling all plastics with numbers 1-7. A complete list of items that can be recycled at JMU can be found here.
Additional information about JMU's environmental stewardship efforts can be found at the websites for the Institute for Stewardship of the Natural World and JMU Recycling and Waste Mangement.
A scoreboard for the competition will be kept here: www.recyclemaniacs.org/scoreboard
# # #
Published: Feb. 7, 2012
Published: Tuesday, February 7, 2012
Last Updated: Thursday, October 20, 2016