News
Langridge Appointed Acting VP for Advancement
---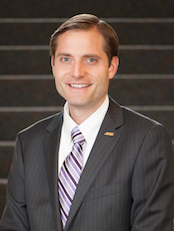 Nick Langridge will serve as the acting vice president for university advancement upon Dr. Joanne Carr's retirement at the end of February.
Langridge, who is assistant to the president, will assume the acting vice president's role effective March 1. He will begin the transition to his new post immediately. After July 1, JMU President-Elect Jonathan R. Alger will determine how to proceed regarding the leadership of the Division of University Advancement.
In announcing Langridge's appointment, JMU President Linwood H. Rose said, "Mr. Langridge is devoted to the success of the institution and to the expansion and diversification of our resources. Nick is well known by many of our current donors and respected in our community. He is experienced in development activity having spent seven years in fundraising prior to joining the Office of the President's staff."
In addition to his role as a member of JMU's senior management team, Langridge also has responsibility for University Planning and Institutional Research.
Published: Thursday, January 26, 2012
Last Updated: Thursday, October 20, 2016