News
JMU Professor Receives Outstanding Faculty Award
---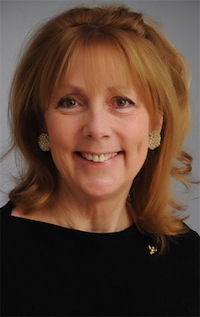 Dr. Anne Stewart 
Graduate psychology professor Dr. Anne Stewart embodies James Madison University's challenge to students, faculty and alumni to be the change they want to see in the world.
"For me, the boundary between classroom teaching and the larger world has always been a permeable one," says Stewart, to whom the State Council of Higher Education for Virginia has presented a 2012 Outstanding Faculty Award.
Stewart is one of 12 college and university faculty from around the commonwealth to be honored for excellence in teaching, research, knowledge integration and public service. The recipients will be recognized during a Feb. 16 ceremony at the Jefferson Hotel in Richmond. Each winner will receive an engraved award and a $5,000 check underwritten by the Dominion Foundation, the philanthropic arm of Dominion Resources.
Stewart says the award serves as recognition of the many people who have had an impact on her career and "whose shoulders I stand on." It's also an opportunity, she says, to thank her colleagues and former students who supported her nomination. "It's overwhelming," she says. "I got this award, in many ways, many times before I ever got this award."
Stewart began her teaching career in the mid-1970s on the heels of government-ordered integration of schoolchildren with disabilities in what was one of the first special education classes in her native Indiana. "(Up until that time) the students had been excluded from public schools, and I was excited to teach them and to help rectify this injustice," she says.
Over time, the children and their families came to know and trust her. One day, Stewart noticed a purple smudge on a student's neck. The girl confided that her father had tried to strangle her. "The horror I felt for her was matched by my resolve to protect her, and other children, from interpersonal and institutional violence," Stewart says. "And to keep an open heart and find help for her father."
After gaining experience in the field, Stewart came to JMU in 1979 as an instructor in special education. One of her duties was to supervise student teachers dispatched throughout the Shenandoah Valley, from northern Virginia to Roanoke. "For a farm girl who came from the flatlands of Indiana, that experience helped me develop an appreciation for the valley and its people," she says.
While at JMU, Stewart started taking classes in psychology in an effort to better understand the dynamics of family relationships. "My professors" — who included Dr. Jerry Benson, now senior vice president for academic affairs, and the division's former provost, Dr. Douglas Brown — "led me to look at psychology in a more committed way," she says. Her passion for the discipline eventually steered her to the University of Virginia, which offered a dual Ph.D. program in school and clinical psychology. Following a clinical fellowship at Harvard Medical School in 1985-86, Stewart returned to Virginia and completed her doctorate at U.Va. She joined the psychology faculty at JMU in 1991.
Stewart's teaching is characterized by the three "Is" of interaction, interprofessional practice and an international perspective. Her classes are inclusive, with an emphasis on building relationships. "My students are preparing for careers in the helping professions," she says. "Whether at the doctoral level or undergraduate level, they will be in positions to assist people who are hurting, physically and psychologically. I strive to create relationships with my students that reflect the type of bonds I hope they will form with their clients and colleagues."
Throughout her career, Stewart has led student and faculty initiatives in times of crisis. Following last year's earthquake in Louisa County, she worked on teams providing emotional support for local teachers as they returned to their classrooms. In 2007, she and fellow JMU psychology professor Dr. Lennis Echterling conducted a series of resilience-based workshops at Virginia Tech to support faculty and staff returning to campus in the aftermath of a deadly shooting spree.
Stewart encourages all of her classes to "use the community as a textbook," and she challenges students to develop an ethic of personal responsibility and social awareness. Says former student Katherine Masey: "Dr. Stewart instills in each of her students the belief that they can make a meaningful path not only for themselves, but also for the children, teens and families they will serve."
Stewart's commitment to student development is also reflected in her research and support of scholarly work in the areas of military families, at-risk children, creative crisis techniques, landmine-risk education and rural mental health. One of her guiding principles as an educator is to recognize and value the power of creative play. "Play is something we don't get enough of in our culture," she says. "Research concludes that it can take many forms, but at its center, it is an activity that energizes and enlivens us." Play also has strong healing properties across the lifespan, she says, helping people experience a sense of empowerment, move beyond feelings of self-consciousness and experiment with creative problem-solving and risk-taking.
Additionally, Stewart has been a leader in expanding the psychology curriculum at JMU to include cross-disciplinary courses. She was a key figure in creating the university's first interprofessional health course, "Ethical Decision-Making in Healthcare," as well as an early childhood intervention class drawing on faculty in education, nursing, and speech and language.
As a professor of psychology, researcher and global citizen, Stewart's work focuses on the human condition, and she believes psychology has the power to make the world a better place. "What I do with people every day, at an essential level, is about peace-building," she says. "We are all teachers, we are all learners and we can all help one another. Everyone needs to be in a place where they feel physically and emotionally safe."
# # #
Jan. 25, 2012