News
Student Volunteers Help with Family Caregiving
---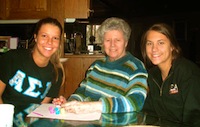 Caring for an elderly family member who is frail or suffers from Alzheimer's disease is a noble undertaking, but the day-to-day demands can be exhausting, leaving caregivers with precious little time or energy to care for themselves.
The Caregivers Community Network, an outreach program administered by James Madison University's Institute for Innovation in Health and Human Services, can help by providing companionship, social interaction and supervision of local seniors while giving their caregivers a much-needed break.
CCN presently serves about 30 low-income families in Harrisonburg and Rockingham County. Program director Kathleen Pantaleo says it's often difficult to recruit community volunteers for the network's in-home respite services, but JMU students help fill the void.
Sophomore nursing majors Alyssa Diorio and Kerry Piel spent about five hours a week with a local couple in their home last semester as part of the JMU nursing department's "Issues and Applications of Family Caregiving" course. The husband, a retired chemistry professor, is the primary caregiver for his wife, who was diagnosed with Alzheimer's nine years ago. "He's trying to keep her out of a nursing home for as long as possible, but it's getting hard to leave her on her own," Diorio says. "I'm not sure how he would do it if someone didn't come in to help," Piel adds. "He would have to take her with him everywhere."
Caring for an elderly family member at home is a growing trend in the U.S., where 1 in 5 adults are now unpaid caregivers. "For most people, it's not something they choose to do; it's something that happens to them," Pantaleo says. Economic factors often play a role in the decision, she says, as the costs of long-term care in a nursing home or other supervised setting can be prohibitive, especially given the trajectory of Alzheimer's. In addition, home-based solutions are important to maintaining a loved one's independence and quality of life, she says.
In recent years, Pantaleo has noticed an increasing number of male caregivers seeking services from CCN. Women, she says, sometimes have trouble admitting that they may need assistance with the caregiving role. "There's a bit of a guilt factor there," Pantaleo says. "But asking for help does not mean you're a failure."
CCN receives referrals from local health care agencies and social services departments, and JMU student volunteers' skills and availability are carefully matched with applicants' needs.
Diorio and Piel admit they were nervous at first going into the home of someone with dementia. "The first time we went to talk with her, she didn't say much and we didn't really know how to interact with her," Diorio says. But over time, they learned to engage the woman by asking specific questions about her favorite television shows or her favorite flavor of ice cream, and through activities such as painting her fingernails. "That gets her to focus on what we're doing rather than her mind wandering," Piel says.
During their visits, the husband would sometimes run errands or simply rest in his downstairs office. Other times, he seemed to enjoy interacting with the students. "I think it's more for him," Piel says. "He needs to get some stuff done, and he loves getting to talk to us because talking to her, she can't always give back."
Both Diorio and Piel say the experience has made them want to consider working with the elderly, and they have put in a request to continue to volunteer with the couple this semester.
"Going into this, I thought it must be miserable not always being able to communicate with your loved one, but once you learn how to, it's actually enjoyable," Piel says. "I look forward to going over there knowing that I'm making their day better."
Last spring, about 30 JMU health and human services students participated in a pilot program courtesy of a $20,000 geriatric training and education grant from the Virginia Center on Aging. The brainchild of Pantaleo, CCN Executive Director Dr. Merle Mast and Dr. Erika Metzler-Sawin in the Department of Nursing, the "Life of a Caregiver Simulation" allowed students to experience firsthand what caregivers go through on a day-to-day basis and how the age wave is impacting the need for services.
Pantaleo says the project, which involved roleplaying and required students to budget for various home-based care scenarios, expanded her way of thinking about how to assist caregivers and their families. "It's something that happens to you, and people are all over the map in terms of how they deal with it. I feel we have an obligation to help them and their families deal with it in a good way. That's really what CCN is all about."
Related links:
# # #
Jan. 23, 2012
Published: Monday, January 23, 2012
Last Updated: Thursday, October 20, 2016