Combating Cancer One Step at a Time
---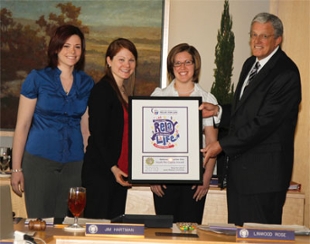 Seniors Irene Beam, Judy Schneider, and Toni Herrmann present national Relay award to Dr. Rose.
James Madison University's Relay for Life organization is building an army to raise money for the battle against cancer. "Combat Cancer," JMU Relay's 2011 theme, encourages students to take action to honor and remember those touched by cancer and join the fight to eliminate the disease. 

In 2010, JMU Relay won the American Cancer Society's Nationwide Number One Youth Per Capita Award. This year, teams are fighting to secure that ranking. 

�In the fiscal year 2010, JMU ranked No. 1 in the nation for fundraising per capita. The 2010 JMU Relay fundraising total divided by enrollment at JMU was the highest compared with all other colleges and universities in the same enrollment bracket,� said American Cancer Society Community Manager Annika Dean. 

On Saturday, April 16, 220 teams participating in JMU�s Relay will gather on Hillside Field starting at 4 p.m. for the all-night event to combat against cancer that never sleeps. The event will conclude on Sunday, April 17, at 7 a.m. with a Fight Back Ceremony. 

Fundraising for a Cure 
Since 1985, Relay For Life has given communities around the globe the chance to honor survivors who are battling cancer and remember loved ones lost while raising over $4 billion worldwide. JMU's Relay raised $164,000 in 2010 alone and this year will surpass $1.5 million in total donations over the past 11 years. 

JMU Relay chair, senior Judy Schneider, is confident in JMU students' ability to raise money for such an important cause. �This year, we are aiming to raise over $200,000," said Schneider. "At this point in the game, having raised over $33,000 more than last year and with the rise in participation, we are on the way to reaching our goal.� 

Increased Involvement 
The desire to remain at the top of the national Relay for Life rankings led JMU Relay's executives to increase their participation and fundraising goals. JMU Relay leaders credit the incorporation of eight executive members and persistent marketing efforts to the addition of 20 participating teams, or 500 more participants, compared to 2010. 

�High turnout rates and increased participation are due to the high prevalence of cancer. Everyone is affected by it, whether personally or through a loved one,� said JMU Relay chair Irene Beam, a senior. �It�s a great way to get involved and there is an underlying social motivation for people to come out for this cause.� 

JMU Relay executive members have worked diligently to cater to each team and implemented challenges to energize the groups. The registration challenge, the Greek challenge and the Boot Camp challenge are all meant to foster a sense of amusement and competition to see which group can raise the most money. 

�There will be a mini 'Boot Camp Challenge' between Air Force and Army ROTC. They will compete in different endurance challenges and people can vote with money for the division they want to win,� said JMU Relay chair senior Toni Herrmann. �The winning team can channel the money toward their Relay team or donate it to Relay in their name.� 

A Night to Remember 
Aside from walking laps around Hillside Field, participants will have full access to concession stands, lounging areas and a Mario Kart tournament in Taylor Down Under. Teams will be treated to performances by select bands and JMU organizations such as The Madison Project, Into Hymn and The Mozaic Dance Team. 

JMU Relay handpicked games and events geared toward participants to keep the crowd energized and awake. The University Recreation Center will invite participants to partake in free fitness classes on the field, while pie and wing eating contests and other challenges are scheduled to take place throughout the night. 

�Relay For Life is addicting and it really allows people to make a difference,� said Herrmann. �JMU is united in helping to save lives, raise money and recognize those that absolutely say 'No!' to cancer.
Published: Wednesday, April 13, 2011
Last Updated: Wednesday, January 10, 2018