News
Trash Sort Sheds Light on Campus Recycling Behavior
---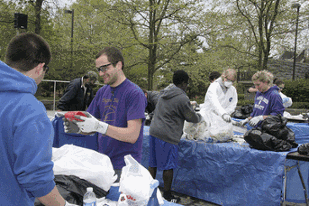 Recycle bins are prevalent on the JMU campus, but much work remains to get people to use them. See just how much recyclable material gets tossed into regular trash bins at 10 a.m., Wednesday, Nov. 3 on the ISAT/CS hill when a group of environmental health students participate in the annual Trash Sort.
The students will sort trash collected on campus, separating recyclables from non-recyclables. The event is held to help raise awareness of how much "trash" is actually recyclable and to help encourage recycling among the JMU community. 

Related Links: 
JMU Recycling 
Institute for Stewardship of the Natural World 
JMU Chooses Environmental Stewardship Tell us what you do to be a steward of the natural world. 
Recyclemania 
Photos from past trash sort.