JMU Theater Presents Rauschenberg-Inspired Play
---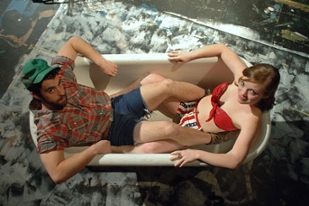 Set in Port Arthur, Texas, and other places in the United States from the early 1950s to the present, "bobrauschenbergamerica" repeatedly returns to the refinery town that was the childhood home of Bob Rauschenberg, one of the pivotal artists of the 20th century. 

DATES: Tuesday-Saturday, April 27-May 1, 2010 
TIME: 8 p.m. 
LOCATION: Latimer-Shaeffer Theatre, Duke Hall, JMU 

In �bobrauschenbergamerica� playwright Charles L. Mee expresses his intrigue for the artist�s way of seeing things and envisions what �growing up Rauschenberg� might have been like in a most unusual way. Through a collage of elements, core American values, ideals and images collide in a world where art and life intersect freely. 

JMU�s �bobrauschenbergamerica� is directed by Dr. Dennis Beck, associate professor of theater. 

Members of the �bobrauschenbergamerica� ensemble cast include Christie Steele (Bob�s Mom), Trevor Wilhelms (Becker), Dylan Morris (Phil, the Trucker), Julienne Jones (Phil�s Girl), Elizabeth Rumble (Roller Girl), Jessica Johnson (Susan), Nathan Taylor (Wilson), Jacob Dickey (Allen), Owen Wingo (Carl) and Cody Whitfield (Bob, the Pizza Boy). Ella Wade is the fiddler and Tom Arthur does the voiceover. 

Tickets are $10 general admission and $8 for children under 12, senior citizens and JACard holders. For tickets and information, call the JMU Masterpiece Season box office at (540) 568-7000 or (877) 201-7543 (toll free). The box office is in Room 1107, Harrison Hall, and is open from noon to 4 p.m., weekdays.
Published: Thursday, April 22, 2010
Last Updated: Friday, November 10, 2017