News
JMU Awarded Prestigious Phi Beta Kappa Chapter
---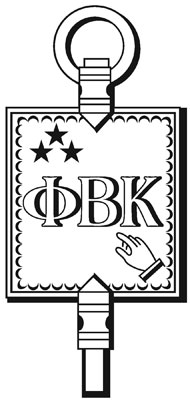 The Phi Beta Kappa Society has voted to establish a chapter of the nation's oldest academic honor society at James Madison University. 

The JMU chapter is one of four chapters granted Oct. 2 during the society's 42nd Triennial Council held in Austin, Texas. With the addition of JMU, Butler University, The College of Saint Benedict, Saint John's University and Elon University, Phi Beta Kappa now has 280 chapters nationwide. Only about 10 percent of the country's colleges and universities have Phi Beta Kappa chapters, according to the society. 

JMU President Linwood H. Rose believes the Phi Beta Kappa is a reflection of the excellence of the JMU community. "Selection by Phi Beta Kappa signifies a broader awareness of the quality of our faculty while also recognizing the scholarly capability of a bright and talented student body," he said. 

Phi Beta Kappa was founded in 1776 "to honor students and to advocate for the liberal arts and sciences both on campus and in the broader world," according to John Churchill, secretary and chief executive officer of the society. More than 500,000 people are members of Phi Beta Kappa. 

"As a faculty member, I am delighted that the Phi Beta Kappa Society has praised the quality of JMU programs in the arts, humanities, natural sciences and social sciences that are at the heart of Phi Beta Kappa's mission," said Dr. Charles H. Blake, president of the Shenandoah Valley Association of Phi Beta Kappa - an organization of JMU faculty and staff as well as citizens from the area who were inducted into Phi Beta Kappa as undergraduate students - and head of JMU's political science department. "Reasoned inquiry and heartfelt exploration are central to JMU's efforts to help students become educated and enlightened citizens who lead productive and meaningful lives." 

"Phi Beta Kappa is the best-known national academic honor society," said Dr. Linda Cabe Halpern, dean of University Studies and secretary-treasurer of the Shenandoah Valley Association of Phi Beta Kappa. "Having a chapter at James Madison University is a wonderful opportunity for our students, the best of whom are truly qualified for induction into this prestigious organization." 

Blake, Halpern and Donna Harper were co-chairs of the application committee composed of Melinda J. Adams, Christopher J. Fox, John R. Hanson, Patricia N. Hardesty, Kay M. Knickrehm, Robert A. Kolvoord, Robert N. Roberts, Kristen St. John, John Scherpereel and Lee Sternberger.