Athletics
CAA: It's (Much) More Than An Athletic League
---
By Eric Gorton, JMU Public Affairs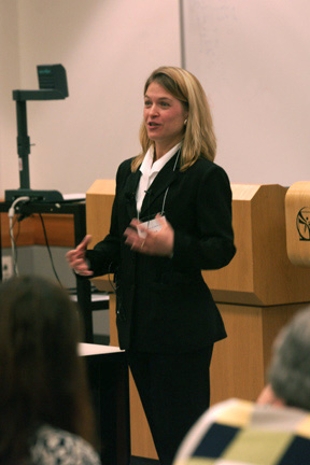 JMU Associate Professor of Chemistry Gina MacDonald discusses the benefits of undergraduate research during her keynote address on April 1. Click here to see MacDonald's PowerPoint presentation.
Usually when they come to campus, they face off as Dragons and Blue Hens, Huskies and Panthers, Patriots and Monarchs, Rams, Tigers, Seahawks, the Pride, the Tribe, the Dukes.
But instead of coming to James Madison to compete in a sporting event as Colonial Athletic Association rivals routinely do, students from the 12 CAA schools converged on JMU's East Campus March 31 and April 1 to display their academic prowess with "The Power of 12" in the fourth annual Colonial Academic Alliance Undergraduate Research Conference.
The research conference, hosted by CAA schools on a rotating basis, offers undergraduates an opportunity to share their academic work with their peers in a professional setting. More than 70 students from the CAA schools presented research on an array of topics in many disciplines, including biological sciences, marine science, chemical engineering, chemistry and biochemistry, communications, electrical engineering, history, political science, sociology and women's studies.
Created in 2002 by the presidents of the 12 CAA schools, the academic alliance comprises more than 200,000 students and nearly 10,000 full-time faculty, including three Nobel Prize-winning professors. First held in 2003 at George Mason University, the annual conference brings together the diversity of research conducted by undergraduate students and their faculty mentors.
Addressing the conference April 1, Dr. Gina MacDonald, a JMU associate professor of chemistry, said undergraduate research is one of the best ways to educate the next generation. Such involved, hands-on research provides undergraduates with unique problem-solving skills sought by employers.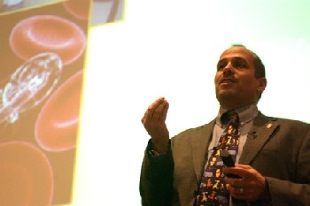 Dr. Ronald Kander, head of JMU's department of integrated science and technology, discusses the future of science, technology, engineering and mathematics education during the opening dinner. Click here to see Kander's PowerPoint presentation.
This year's conference began with a Friday evening dinner hosted by the provosts of the 12 schools. Dr. Ronald Kander, head of JMU's department of integrated science and technology, delivered the keynote address, "A 2020 Vision: The Future of Science, Technology, Engineering and Math." The opening night also provided JMU with a chance to showcase its new facilities on its east campus, with tours of the ISAT/CS, Health and Human Services, and Physics and Chemistry buildings.
The 12 CAA schools are: the University of Delaware, Drexel University, George Mason University, Georgia State University, Hofstra University, James Madison University, Northeastern University, Old Dominion University, Towson University, Virginia Commonwealth University, the University of North Carolina-Wilmington and the College of William & Mary.
To learn more about the Colonial Academic Alliance, visit the Web site at: http://www.caa-academics.org/.
For more information on the Colonial Athletic Association, visit the official Web site at: www.caasports.com.
Published April 2006