$25,000 At Stake for Students in Seventh Annual COB 300 Competition
---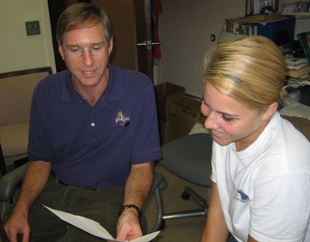 In most college classes, students aim to get good grades. For business majors enrolled in James Madison University's COB 300, there's a lot more at stake than just GPA points. 

The 12-credit course integrates four business disciplines - management, marketing, finance and operations  bringing students together into teams, each of which produces a business plan. Business plans then can be entered in the annual COB 300 Business Plan Competition to be judged by College Of Business alumni and business professionals who review, rate and provide feedback to individual teams. 

In the competition, teams from the previous spring, summer and fall semesters vie for $25,000 in scholarships and awards. Winners of this year's competition will be announced at a ceremony on April 4 in JMU's Zane Showker Hall. The competition prepares students for real-world situations, said JMU COB Dean Robert Reid. 

"Working in teams, solving real-world problems, resolving conflict, making ethical judgments - these are all challenges that students face while creating the business plans. More importantly, these are challenges they will face in their careers," Reid said. "We give them the opportunity to develop and practice these skills while they still have the guidance of professors to help them make good choices."

Management Professor Bob Eliason, one of several professors who team teach the course, said that preparedness for employment is critical, a point emphasized in the competition. 

"Progressive businesses use teams to capture the diversity and broad range of skills of their employees," Eliason said. "We want our students to be prepared as leaders and as team members, to be goal focused, and to have strong interpersonal skills." 

"These types of skills have become a mark of our graduates. Recruiters tell us that JMU business grads integrate well into their companies because they can navigate interpersonal relationships. For employers, this means less training, less turnover and higher productivity," Reid said. 

The annual business plan competition is sponsored by the COB and its Executive Advisory Council. Finalists will make presentations to judges starting at 10 a.m. on April 4. The presentations are open to faculty, staff, students and the media. This year's finalists are: 

Connected Software LLC: Allison Asta, Rex Bradford, Andrea Bustamante, Murong Cai, John Cewe and Caitlin Clark. 

Dirty Paws Mobile Grooming Service: Angela Amoako, Damon Gowen, Jordan Hockstein, Blythe Klippstein, Krista Lusk and Erik Magnusson. 

Green Castle Geothermal: Kate Asai, Billy Dale, Chris Gressett, Chad Kiernan, Bianca Trevino and Meghan White. 

Luau Lagoon Inc.: Alana Dagher, Michael Rawson, Stephanie Sanders, Michael Santiago, Timothy Shirah, Stephanie Washington and Matthew Wolf. 

Pyrefuse Inc.: Holland Henn, Katherine Lukens, Gina Martellacci, Brian Riddleberger, Pete Tkachuk and Matthew Trosko.